Sensex        -                    – 17.75 %
BSE Midcap Index  -            – 29.67 %
BSE Small Cap Index -          – 34.27 %
BSE 100 Index -                   - 19.57 %
BSE 200 Index -                   - 20.51%
BSE 500 Index -                    - 20.54%
BSE Dollex -                           - 21.18 %
If you see above the broader markets have corrected much more then the Sensex. The major part of this correction has happened over the last 1 month after Sensex broke below 19000 levels.
For example Bse Small Cap Index dropped from 9050 to 7500 roughly in the last 3 weeks.This is approximately a fall of 17%. But in the same period Sensex dropped only 9%.
For a simple comparison when Sensex was at 15500 the Small Cap Index was at 7000 levels. So Broader Market has touched 16000 already.
So what we understand is the broader market has fallen much more then the known index – Sensex. As well as quite a large amount of fall in broader markets came in the last 3 weeks.
The basic inferences from the above analysis is.
1) The average fall from peak is roughly 30% on a broad index of midcaps and 20-25% in top 500 companies. In this case broadly the portfolios could be down 20-40% from peak for investors who would have been totally invested.
2) The fall in the last 3 weeks has been much deeper in the broader markets then the Sensex. Investors who would have increased cash at 19900/19000 would have actually reduced their portfolio would have saved a lot of their losses.
3) The Broader markets are already at 16k levels and have corrected much more then Sensex. The good part is Sensex worst case scenario for short term is 16800/16100 but broader markets are already closer to similar levels so any further drop could create Value Opportunities for investors/institutions.
4) Although the fall below 17800 has created a clarity on continued downtrend and upside momentum to have gone but broader markets indicate we might be closing in on a Buying Zone at least for pullback. Investors should now start making a list of FUNDAMENTALLY strong stocks to watchout for in Panics. Till we stay below 18200/18600 the risk of a further sharp fall remains but thats when good opportunities can be created.
5) For long term Investors they may start buying in very very small quantities but if there is some panic due to current sentimental conditions they might get some seriously exciting opportunities. Traders may still avoid longs till we dont close above last two days highs 🙂
Bottomline:
Further falls of 5-8% on Sensex may create extreme opportunities on the broader segment as many stocks have dropped 50% from peak also. Market HAS TOUCHED 16000 levels !! in simpler terms and 5-8% on Sensex would mean 14-15k on Broader Index thats very interesting !!. Maybe we are getting a little greedy ( As cash on Hand)
The risky part is in a Bull Market we dont see such sharp drops!. The current market condition could be similar to mid 2006 where indices fell 30% also before creating a new upmove. Although some may compare this to 2008 which i would not be considering as No Euphoria was seen, so the current phase could be a Time Wise Pause in the raging Bull Market which started in 2009.
The better part is in such markets after a base the rise is much higher then in a normal trending Bull Market. As well as falls are bigger giving good trading opportunities on either side. Only thing is one will need patience to wait for the right opportunities.
For the Short Term we did see some bit of Recovery on Broader Index today but not in Sensex. Also if todays low does hold it could be a Positive Divergence. But these are still no signals to buy 🙂 The trend decider for short term trend is 17950/18200 resistances.Also todays high of 17636 could be first indication of any positive change. Technically strong support 16900 which is the channel support
The view on the charts is given below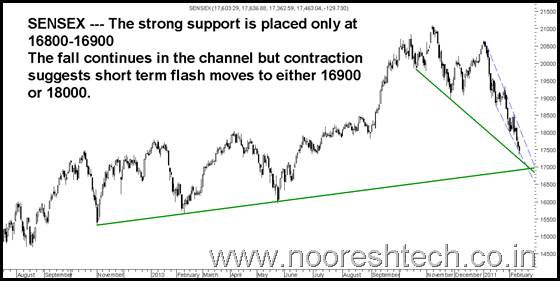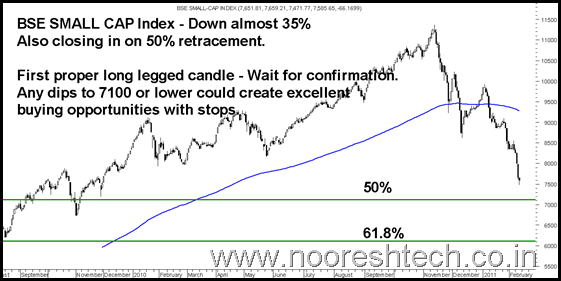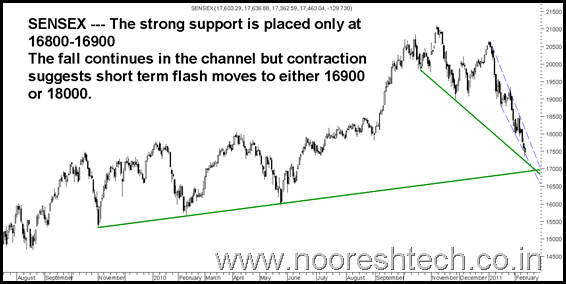 TECHNICAL ANALYSIS TRAINING SESSION DELHI
FEBRUARY 26-27
For more details contact Kazim 09821237002