As per the market buzz there were many stocks in the current scenario which were pumped up purely on Margin Funding and at some point with the intention to dump it !
Many brokers would give 3-4 times margin on the stock or by pledging. Quite a lot of investors were pulled into the stocks by SMS, rumours etc.
As per market-men quite a lot of financers have been ruined in the below stocks. The funding rate was 24-36% per annum for such operations 🙂 so some point of time this had to end as no stock can continue going up at that rate forever.
In the end it some time seems one needs to have a better filter to cut out such stocks.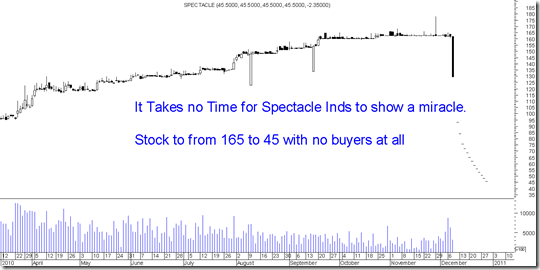 Spectacle Inds:
Another stock which was ramped up on huge volumes.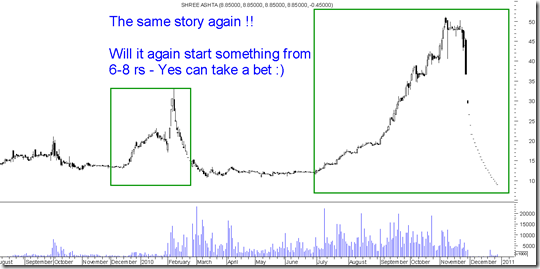 Shree AshtaVinayak:
the stock did not fall even in worst times of 2008-2009 but one fine day saw a crack after split announcement killing a lot of people. After a few months the same story repeated with a move from sub 10 levels to 50.
Now its back to 8 levels. Its difficult to value an entertainment company but if somebody wants to take a high risk arnd 6-7 one can. Consider it to be a NPA 🙂
Market buzz is in next 1 week the margin selling would be over.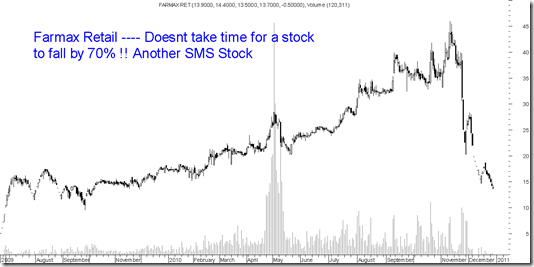 Farmax Retail :
The company was one of the smarter ones which actually came out with glossy advertisements on business channels to dump the stock:)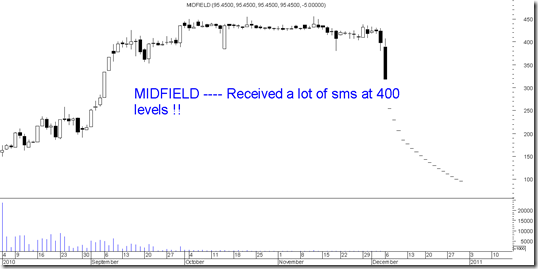 MIDFIELD :
The stock was also received as a sms at 300-400 levels about huge moves etc to dump the stock.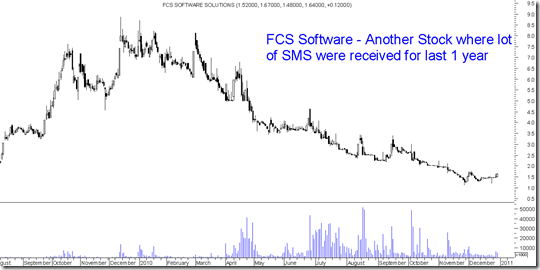 FCS Software :
Had posted about this stock before also !
There are many such stocks which keep outperforming the market with 3-5-10 times move and one fine day back to none. Sometime back had mentioned about Wellpack Papers the stock is down from 110 to 20. !
Some stocks which seem to be a little dodgy on a brief check – Kuvam Intl, Splash Media, Nikki Global Finance, Prraneta Leasing, Shalibhadra Finance, Pasari Spinning, Kanani Inds, lee and nee  which may see further moves on operation 🙂
The above view is purely based on market rumours and could be entirely fictional or untrue and bears no resemblance to any existing company

and i have no idea of what the above stocks may do
– Do read the disclaimer – https://nooreshtech.co.in/disclaimer
Regards,
Nooresh