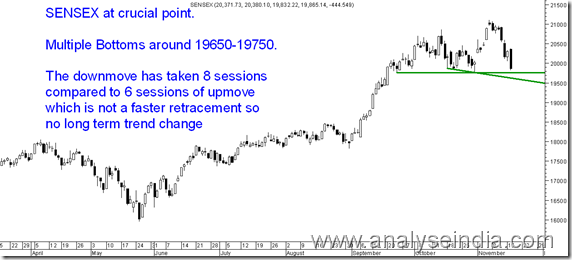 Sensex Technical View:
Negatives:
1) 19650 on Sensex is a crucial level on closing basis.
2) Sustaining below 19650 on closing basis could take index to 19200/18700 also.
3) Recent bottoms at 19750 has been broken in the day.
Positives:
1) Any long term trend change is shown by faster retracement. Upmove from 19750 TOOK 6 SESSIONS.
the downmove has already taken 8 sessions. ( the same theory was used to buy a buy call at 9700 in March 2009)
2) Till we dont see a faster retrcement we cannot term any move as a long term trend changer so any downmoves till then are supposed to be corrective moves.
The current selling for today is more of Marging selling. Sustaining below 5925 and 19650 on closing basis would make us change the view. Also todays low is going to be very important for days to come.
Bottomline : Investors will need to bear the pain for next 1-2 sessions and be ready to see weird prices on small cap stocks due to panic selling. Also be ready to exit a lot of positions if we close below 19650. Also if index holds on to current levels wont be surprised to see 21k being tested ! I stick to my view of holding Nifty bees and Nifty futures stoploss being 19650 on closing basis and time period 3-4 weeks.
Will be posting a detailed technical powerpoint presentation by tomorrow morning for possible