Sensex Technical View:
There is no change in the technical view for Sensex. In simpler words it remains that index should remain range bound within 19750-20800 in near term.
Medium term outlook remains positive with upsides upto 22500 or more.
For a change after consecutive Diwali days which were not very positive trending but this time around we have a good trend coming into the current one though the next 1 year is going to be full of opportunities but on either side with big moves !
Stocks to watchout for :
Eimco Elecon mentioned day before did a 20% move
Siemens recently gave a false move above 860 but cracked after that . It needs to be seen
ICSA:
The stock gave a breakout at 138 levels where a buy initiated with partial booking at 148 and will next book fully at 160.
Nice example of a breakout trade though it was very quick !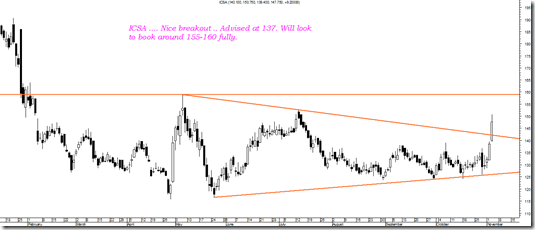 Maintain an investment view on Ballarpur Inds and buy on declines.
IDFC can give a quick move to 215-220 in short term. Disclosure buy reco at 203-204
Dish Tv has given a breakout today and may head to 66-70 in next 2-3 sessions. ( Buy given at 60.5 today )
Pradip Overseas, Welspun India and Escorts look interesting bets for next couple of weeks. Follow a simple rule 1:3 risk reward.
GNFC has given a breakout today and should slowly head to 150
TECHNICAL ANALYSIS TRAINING SCHEDULE
After a break of sessions outside Mumbai we are back with a string of training programs to be conducted in your city.
MANGALORE – NOVEMBER 13-14
AHMEDABAD – NOVEMBER 20-21 ( confirm at the earliest )
Call Kazim 09821237002 to confirm your participation and for any queries.
Regards,
Nooresh