Sensex Technical View:
Sensex is now around the higher end of the channel. One can look to go short on every rise with a stoploss of 21050 on closing basis.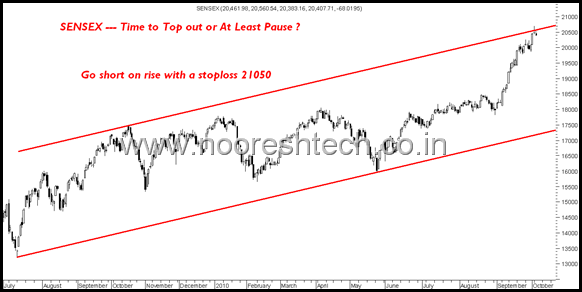 Nifty Technical View:
Similar reasons for Nifty. Short on rise.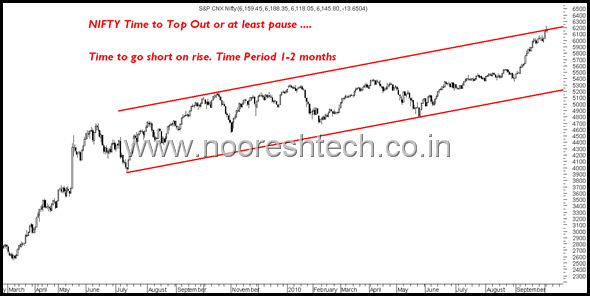 As always the norm with markets Smallcaps/Midcaps start performing a little later after the index moves. In todays note to clients in morning had mentioned about the focus on midcaps and have recommended a few exciting smallcaps/midcaos.
For detailed presentation on Sensex - Check Link Here-
Stocks to watchout :
AREVA TnD can give a sharp move above 308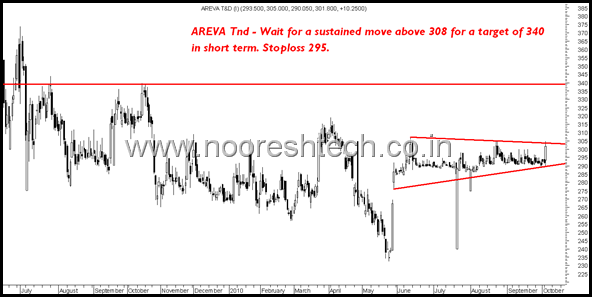 RCOM: Headed to 190 in short term possibly. BTST buy given at 176 to clients and free call to blog subscribers on SMS.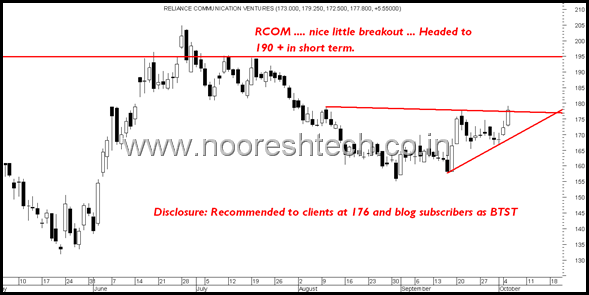 INVESTMENT PICK FOR LONG TERM :
LOKESH MACHINES - Excelllent fundamentals and interesting technicals. Will test patience but reward over the next 6 months. Once the fundamental study is over might look into it as a small cap coverage. Quite a lot of small cap coverage is now only for clients like Hitech Plast - stock did 108 to 135 ! and still strong.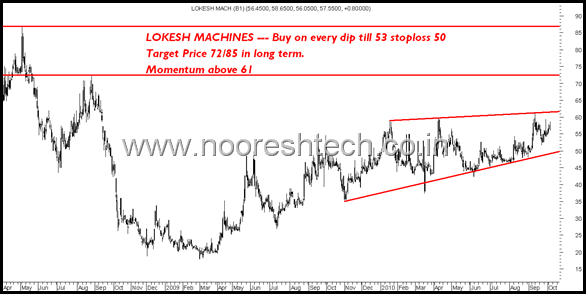 Stocks to watchout for:
Mudra Lifestyle has given a breakout and should head to 60 in  short term.
Reliance Capital earlier gave a breakout and then hit stoploss at 800 has now turned back. Can the stock head to 900 + quiite possible.
SJVN - Sutel Jal -
Watchout for a sustained move above 25.5-26 which will give a target of 30-32 in 1-2 weeks.
HDIL and India Bull Real Estate look promising for 3-4 sessions swing trade.
FINOLEX Inds buy above 112 stoploss 107 tgt 120-125 in 1 week.
WESTERN INDIA SHIPYARD RECOMMENDED couple of days has given a breakout indication buy for a quick target of 18.
Power Grid and Pipavav Shipyard recommended to readers who filled the pop up form should hold for the targets mentioned. If you want to get free advice mail to analyseindia@gmail.com with ur details.
Those who would like to get our exclusive advisory services call Asif 09833666151 to help you out with the best combo packages and customized service.
TECHNICAL ANALYSIS TRAINING SESSION
MUMBAI OCTOBER 9-10
BANGALORE OCTOBER 16-17
Cheers,
Nooresh
09819225396
Analyse India