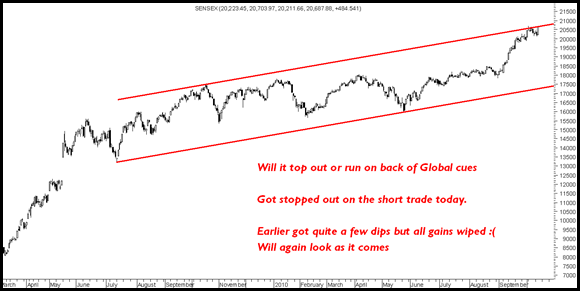 Sensex Technical View:
Last week had advised shorts on Nifty at 6220 then got a dip to 6130-6145 again a rise and got covered fully at 6100.
But todays move took all our stoplosses. Technically the index is overbought but got to go with the trend. Only concern is the upmove is very selective to large caps and not much happening on the broader market.
Investors should continue to trail on and slowly increase cash. Traders continue with stock specific longs.
Just a bit unwell so no further updates for tonight.
Readers can checkout how i had indicated about a global move some time back. Hang seng has since moved 2000 points. - https://nooreshtech.co.in/2010/09/global-indices-dow-jones-ftse-cac-dax-and-hang-seng-on-verge-of-breakouts-did-sensex-jump-the-gun.html