Sensex Technical View:
In the last few sessions index has clearly given a lot of unusual moves with no clarity of a direction on either sides.
On the upside the resistance zone of 20500-20800 is not being broken convincingly at the same time lower sides of 19800-20050 seem to be holding up. Intra day moves have broken recent day low and highs to trap short term trades.( yes me to got stopped out at 6240 🙁 ).
But one has to stick to the discipline and be ready to digest a bad trade and at the same time to relax and watch for some time.
The medium term out look  was presented few weeks back -
Sensex at 18k - View presented in August 1st week 2010 with a target of 20500 +
https://nooreshtech.co.in/2010/08/presentations-of-mumbai-seminar-sensex-at-18k-the-journey-ahead.html
Recent view posted some time back that it would be difficult to cross 20500-20800 easily. Index has since corrected 800-1000 points.
Some Technical Observations -
India Bull Real Estate
After a good trade on Unitech and DLF posted earlier - It seems India Bull Real EState is next on the radar.
Advised to clients at 204 today.
Unitech - https://nooreshtech.co.in/2010/10/strong-technical-pick-unitech-limited.html 
DLF - https://nooreshtech.co.in/wp-content/uploads/2010/09/DLF.png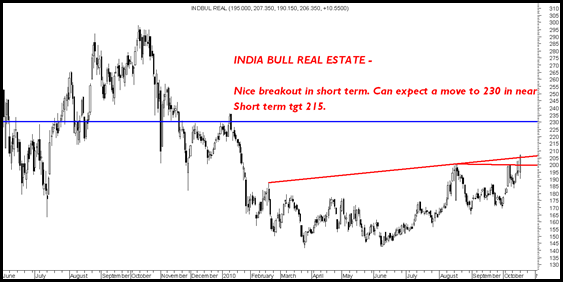 India Bulls Real Estate has given a nice breakout today with supporting volumes. Expect a quick move to 215/230. Stoploss below 198.
GMR INFRA:
Technically the stock has given a possible breakdown in short term but a further confirmation of a major downtrend comes only below 51.
The stock can see a bounce back from 51 levels but i would prefer to avoid that trade !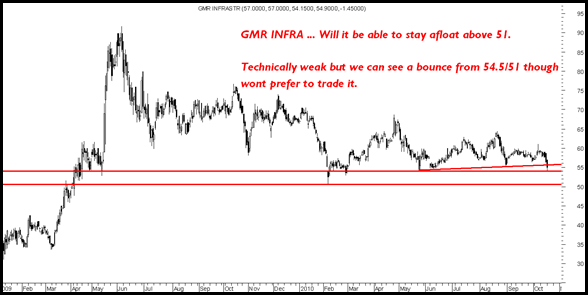 Some other Midcap Observations:
After a super move in Karuturi Global Limited the largest producer of roses can we see a follow up move in Neha International which also on a scan seems into same sector ! ( Havent digged deep so plz do your research)
Technically the volumes in last few days suggest a strong move to 200 +
High Risk High Returns.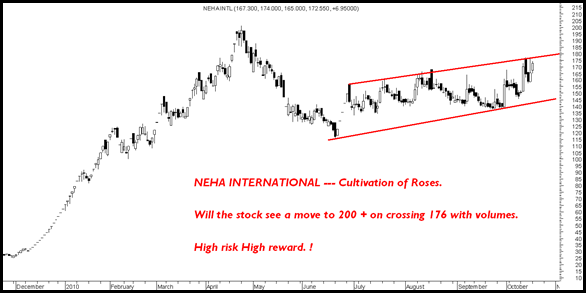 TECHNICAL ANALYSIS TRAINING SCHEDULE
After a break of sessions outside Mumbai we are back with a string of training programs to be conducted in your city.
MUMBAI - OCTOBER 23- 24 ( book seats at the earliest as limited batch size )
HYDERABAD - OCTOBER 30-31 ( tentative)
MANGALORE - NOVEMBER 13-14
AHMEDABAD - NOVEMBER 20-21 
For more details regarding group discounts or to organize a session in your city get in touch with our Technical Training Head - Kazim - 09821237002
Regards,
Nooresh
09819225396 ( only after market hours !)