Sensex Technical View:
The current move in Sensex is a clear example of what happens on a Technical Breakout !! I had been discussing this possibility of 20500 for a long time now and within 2 weeks of breakout its at 20k.
When we see a 30-40% move up in stocks its easy to digest but a similar 10% move in Sensex is difficult 🙂 thats how markets are and one should never go against the trend.
Me made a mistake of taking a high risk short at 5825-5840 stoploss of 5865. Luckily part booking was done at 5785 in dips so a 30 point loss but the discipline kept us out. As of now will wait for a trend change or any technical signal to short till then just wait and watch.
Short term range should now shift to 19500-20500 band. Fresh Index entry can only be done closer to 18500 on technicals.
Be stock specific. As i had mentioned before that Small Caps/Midcaps had rallied much before then the index - https://nooreshtech.co.in/2010/08/small-cap-and-mid-caps-rallied-were-you-left-looking-at-the-sensex.html 
For now in the last 2 weeks of breakout the midcaps/smallcaps have not performed. Will we again see that Sensex consolidates and Midcaps start moving up. This is just a thought but will need to observe the next few days to get clarity.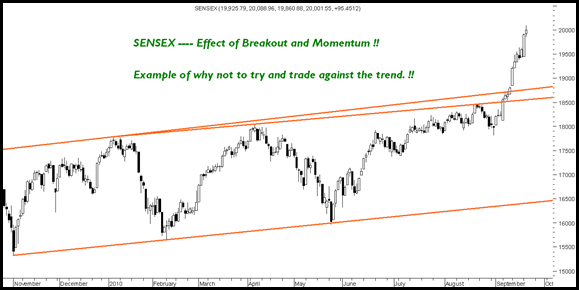 STRONG TECHNICAL PICK -
Moderate Risk - High Returns :
Reliance Capital - Buy at 825-835 stoploss 805 target 875/930 in 1-2 months.
The stock has given a strong technical breakout today with decent volumes.
Take a position only where you can digest the stoploss of 805 which is 4%. If you cannot digest then you are taking a position larger then your risk. Technically its a clean breakout but the history of the stock shows its highly volatile thats why its been mentioned to be moderate risk else its a low risk high return trade possibly similar to HUL !
Disclosure: Recommended to clients at 828-835 today.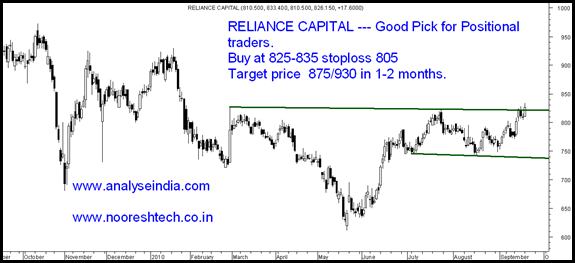 IDBI :
The stock has been a laggard in the banking space but has recently given indications of a breakout. Buying can be done at current with a closing stoploss of 138. If that breaks we could see 132. Upside target 160 + in next 1-2 months.
Disclosure:  RECOMMMENDED AT 144 to clients and free Newsletter Subscribers ( Fill the form u get on the blog)
SUN PHARMA
Another nice trade we had from 1830 to 1910-1940. The stock should even head to 1990-2050 in near term. Was advised to clients at 1830 and Blog readers who subscribed to the newsletters at 1860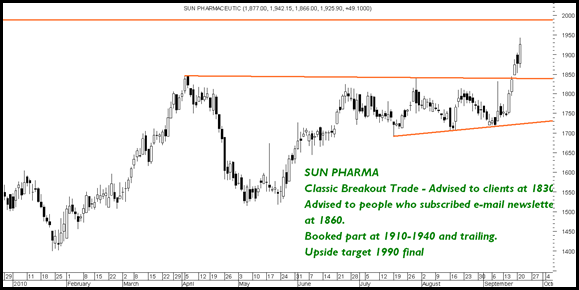 Hindustan Unilever- hope people made tons of money in this strong technical pick suggested at 275.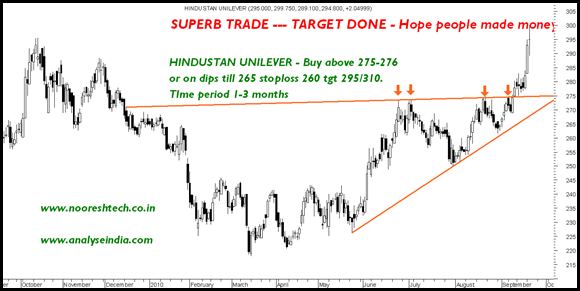 Stocks to watchout for :
Weird Small Cap Pick - Malu Paper Mills - Risk 10% Reward 30% in short term. Siemens look set for 800-820 in near term. High risk buy on dips for 1 week.
Cheers,
Nooresh