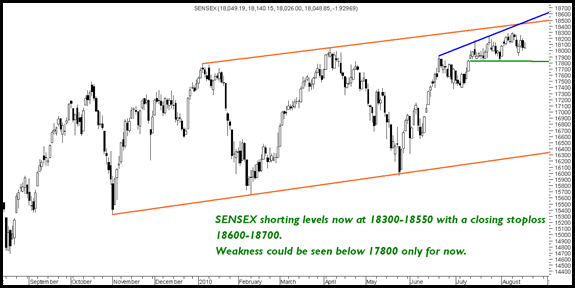 Sensex Technical View:
In the last few days nothing much has changed but the higher bottoms being made suggests a move possibly to 18300-18550.
For now i expect volatility to increase as we reach 18300-18550 zones which can some good trading opportunities on Options as well as Index.
Stocks to watchout for:
Not many charts today but a quick view.
Fortis Healthcare has given a breakout and can head to 175 in short term. Buy in dips with stop of 155
Hindalco buy above 170 for an intra day tgt of 175.
Elecon Engg and Garden Silk Mills look interesting on charts. Watchout for any price volume action.
Hindustan Motors has given a technical breakout…. Is it indication of some news in the offing maybe yes … Buy on dips with a stop of 25.
Mirc Electronics buy above 30 for a quick move to 35
Tata Coffee has given a breakout the stock may head to 550 in next few sessions.
SMS PUMP AND DUMP CONTINUES !!!
Many stocks like FCS software dumped from 9 to 2.5 rs with supporting announcements !!
Nimbus Food , Sumedha etc etc. Still people get duped reading into this smses.
I had mentioned about this modus operandi in details some time back - https://nooreshtech.co.in/2009/10/sms-new-way-to-pump-and-dump-stocks-by.html 
Very recently i received a message to buy Wellpack Papers and Containers on lower freeze to dump the stock
I had posted a detailed article on Wellpack showing how grossly overvalued the stock was and since than its seen – WELLPACK CONTAINERS CLICK LINK HERE