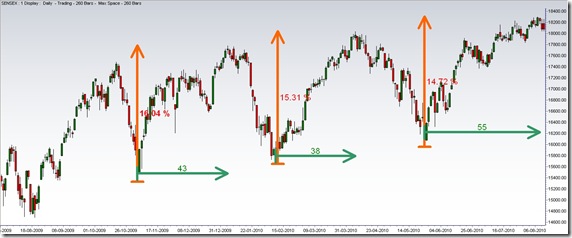 Sensex Time and Price Analysis:
According to the Time Analysis we had projected a low to be made around May end few months back !
Similarly had mentioned about Sensex crossing 18k by 2-3 rd week of July.
Price and Time Analysis:
In the last 8-10 months the downmoves have lasted 25-30 sessions and 10-12% drops.
Upmoves have lasted 40 odd sessions with a move of 15-16%.
This gave us the target of 18400 by 3rd week of July. For now the current upmove has lasted more then the 40 odd sessions which indicates that indicates Index may no more follow this flip flop pattern. Have discussed this in the latest presentation.
Till we dont see a move beyond 18600 on closing basis we may stick into this pattern.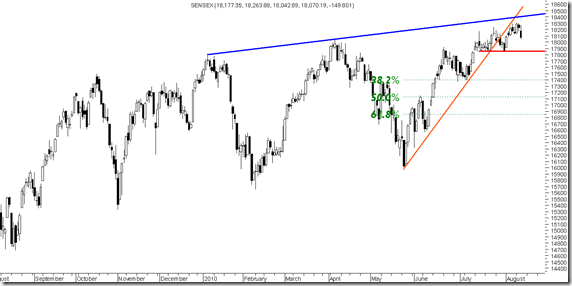 Short Term Technical View:
As i have mentioned before 18300-18500 remains the resistance band where one can look to short with a stoploss of 18600 on closing basis.
On a clear analysis it can be seen there are multiple bottoms around the 17800 mark which should act as a strong support.
Sustaining below 17800 would open the doors to the 38/50 % retracement of the last move which comes to 17400/17100.
The momentum line has been broken which indicates either markets would stay sideways in the band of 17800-18500 or take a crack down.
Short Positions can be covered at 17800/17400/17100 respectively with a stoploss of 18600 on closing basis which can be later trailed to 18300 and so on.
For investors 17100-17400 would be a good point to buy with a stoploss of 16800 on closing basis.
Sunday Thoughts :
Focus and Concentration two very important words in Investing !
Well ideally speaking if we talk about Focus and Concentration it seems either i am talking about Sports/Studies or anything which requires lots of Mental Abilities.
Investing is actually so much more of psychology apart from Analysis.
Focus:
Many a times traders/Investors try to track each and every possible move available in the market as well as in different Stocks.
For example everbody would want to be part of the rise in Educomp or the fall in Telecom or the sluggishness of Reliance. The 20% jump in MMTC. I keep getting queries TATA MOTORS ko kya hua , Educomp me kya aaya !! Does that make a difference to your portfolio ???
Well one needs to be focussed towards finding good investment and trading picks without bothering about the irrational or uncatchable moves in the market.
For me the focus keeps shifting from Index then to Large caps then to Midcaps and Smallcaps wherever i see an opportunity which is relatively better. ( Its DIFFICULT but whats the harm in trying to be focused :) 
A selective and focussed approach is always needed to OUTPERFORM and OPTIMIZE the portfolio.
So one needs to be focused on analyzing well and finding few good trades/investments rather then jump into 20 stocks and 5 Future positions !!!
My focus is generally on finding good Midcap Investments and Decent Moves in Large Caps.
Concentration:
In markets Concentration does not mean KEEP STARING AT THE PRICES ON THE SCREEN 🙂
Well most of us do the same keep staring at the screen with Hope and Fear whereas when we check our portfolio we are dozing!!
How many times we have seen a stock say for example Bombay Burmah run 50% or Dhanalaxmi Bank do 30% but the total exposure to the stock is minimal. So although we were able to find excellent picks but the gains made very nominal and inconsequential to the portfolio.
So to complement good stock picking investors need to concentrate on stocks with High conviction where decent exposures can be taken.
Say exposing 20% of portfolio to one good stock which moves 50% is better then having 5 stocks with nominal exposures of which 2 do 200 % and rest do nothing !!!
Also concentrating on the WHOLE PORTFOLIO gains then on every holding in the portfolio gives a clear picture.
Right now i am just giving in cues for people to look back into as these are issues faced by all of us 🙂 Will try to elaborate on the above thoughts in a lucid manner if possible by the weekend.
Cheers,
Nooresh