Sensex Technical View:
The last 2 months have been very interesting for the Sensex moves.
Around end of May when markets broke 16000 by a whisker and and 4600 the street was buzz with lots of GLOBAL UNCERTAINTY and various other stuff pointing to a possibly double dip correction and lots of jargon.
Now at 18k i think suddenly the WORLD looks more certain 🙂 and Sensex eyeing 21k also….
This is how market works. But returns in investment/trading come only by following good discipline.
Technically as i have consistently mentioned on the time and price calculation 18000-18400 is the target price and Time period was July 2-3rd week which is almost done. So i would prefer to book profits and increase cash.
Till we dont close above 18600 on weekly basis my view would remain to be very selective in picking stocks and keep increasing cash at every rise from here. As stock specific action increases in this period i would strictly advise people to avoid leverage.
When we were at 16k i came out with a detailed PRESENTATION – TIME TO BE OPTIMISTIC NOT SCARED received a lot of negative views :). The market move has shown the accuracy of technical analysis. Also at the same time had given a path for 18k + by July !!
For now i remain cautious will put a detailed report by end of month.
Another Post SENSEX TO CROSS 18k in JULY  - https://nooreshtech.co.in/2010/06/sensex-to-cross-18k-in-july-time-analysis-possibility.html 
WOULD YOU LIKE TO GET OUR EXCLUSIVE ADVISORY CALLS AT ZERO COST or Absolutely Free ??
IF yes Do get in touch with our team Kazim 09821237002 Asif 09833666151 Nooresh 09819225396 ( after market hours only ).
Stocks to watchout for :
Bombay Burmah Trading corporation – Small cap Coverage. Having a more detailed look after one of our students of Technicals sent in more details. Looks very exciting on valuations ( Market Value of Holdings should be 3-4 times current market cap) . Will post details in weekend.
Tata Steel and other Metals set to roar tomorrow. Time to take some profits of the table in them.
Tata Motors buy above 835 stoploss 830 tgt 855. Disclosure ( Taken BTST today )
yesterdays view again
Punters bullish on Empee Distilleries/Maxwell Inds in near term. Trade at your own risk

Pricol and Munjal Auto look interesting in the Auto Ancillary space.
Bombay Burmah trading corporation would like to invite views on this stock.
Aarti Drugs and Aarti Inds with attractive valuations should get re-rated in next few months. Expect 20% appreciation.
ANG INDS :
The stock looks interesting on weekly charts. No time to research more but the stock seems a doubler on technicals. Investors should have a look. Buy small qty and then research 🙂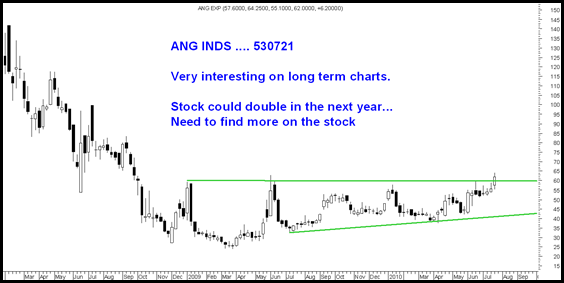 Omnitech :
Multiple Tops around 205. Will it be able to cross.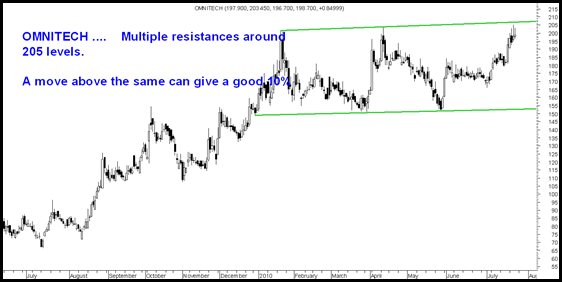 JAIPRAKASH ASSOCIATES:
The stock after being sideways for long time can see a spike above 132 in near term.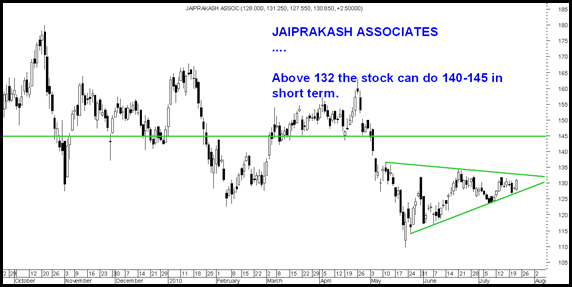 Cheers,
Nooresh