The stock ION EXCHANGE was last covered in April 2010 at 140 levels. We continue to maintain that it is a potential multi-bagger in the long run and can give superlative returns.
Recently added the view also - https://nooreshtech.co.in/2010/07/small-cap-coverage-excellent-performance-for-patient-investors.html 
For the previous post read - https://nooreshtech.co.in/2010/04/small-cap-coverage-ion-exchange-water-story.html 
The stock is about to give a strong breakout on weekly charts. Sustained closing above 180 should propel the stock to 230-310 in the medium to long term.
Disclosure: Fresh recommendation sent to clients at 165-169 and half booked at 185 levels. Will re-enter sold qty on any dips.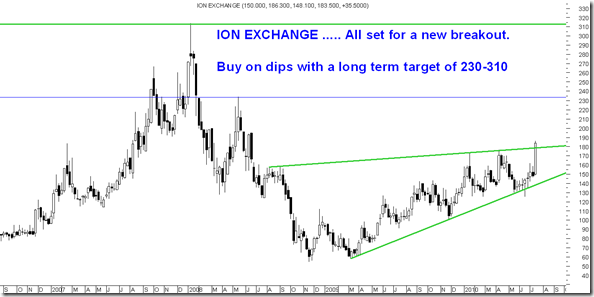 All these stocks with long term potential are covered under our DELIVERY GAINS SCHEME. ( An ideal scheme for investors with medium term outlook and looking for steady portfolio growth)
Check the performance report here on the same - https://nooreshtech.co.in/2010/06/delivery-gains-performance-update-2.html 
Regards,
Nooresh