After quite some time coming up with a small cap coverage. The last one was ION exchange which is still available at recommended price after moving up 20% quickly. Maintain the strong view on it for long term.
This time the two stocks which i am covering are in the education sector with the best distribution networks and brand name which gives them a distinct advantage to tap into all high growth verticals in the education sector.
Camlin Limited is a 200 crores market cap and Navneet Publications at 1100 crores market cap.
As of now it would take more time to elaborate on business projections of both the company as busy with lots of other work. For now just a quick dope on the two stocks.
Camlin Limited:
1) Have a look into the analyst meet presentation of the company which shows the intent of the company to enter growth areas in education sector being Play schools
- https://www.camlin.com/corporate/pdfs/presentation1.pdf
2) The company is in existence from 1930s and listed from 1988 with an excellent brand name.
The most important thing to note is company plans to expand its play school division Alpha Kids. It already has 3 schools and is a 100% subsidiary.This requires company to raise more money internally/externally which generally implies company takes shareholder friendly decisions:). Also the other divisions continue to give stability.
I would suggest investors to go through the annual reports/presentations posted on the company website.
Technical View:
Excellent Cup and Handle pattern which gives a target price of 40/54 over the next 1 year.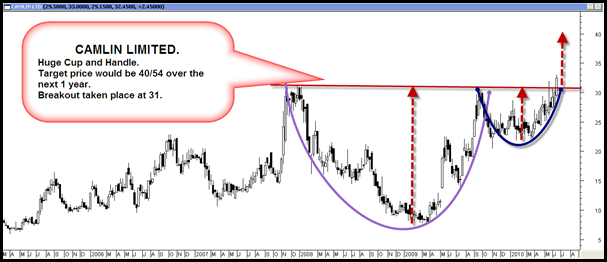 Disclosure:
Long term delivery call initiated at 28-29 and added more at 31 in all our plans namely – Quickgains Premium/Delivery Gains.
Navneet Publications:
The only big brand in the stationery products with a nation wide distribution network.
Dividend yield of 5% makes it even more stable in the long run.
Will soon put a detailed view on the business.
Technical View:
The stock has been range bound from 45-55 in near term. The zone of 45-50 is an accumulate area with a long term view. The stock should target 65/80 levels in the long run.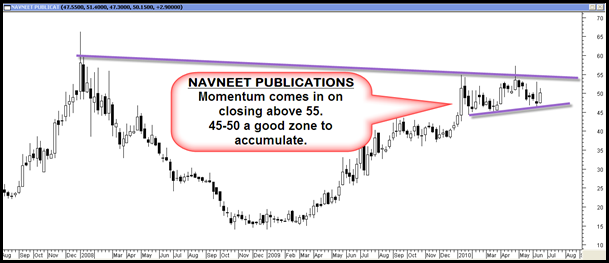 Both the above stocks should be taken with a view of 6-12 months.Accumulate on every dips.Will put in more details as soon as possible.
Regards,
Nooresh