Sensex Technical View :
The last posting i made on Sensex was last friday. Just pulling some of the lines below.
Technically we should now pullback a bit from this band or at least take a pause for a few sessions. We would review the same in the middle of coming week.

Bottomline : Those who bought on our call at 4800 are at gains of 300+ points on Nifty should now book profits and enjoy the weekend.
Nifty did a high of 5130+ which is a cool 300 + points trade. Hope readers enjoyed !! if so do drop in your comment.
Technically the bounce back was expected to be 50/61% of the total move from 18k to 16k which roughly came to 17000-17250 band where we booked out for near term.
The next dip should again ideally be 50% or lesser of the pullback which comes to around 16400. So we could expect a strong support in the band of 16300-16500 in case of weak global scenario. One can expect a turn around from the current zones to re-test 17k. Closing above 17250 gives a change of momentum. Continue to maintain the stance of buy on dips and book on rise.
For now have advised a re-entry in Nifty futures at 5010/4950 in 2 parts would look to book the same at 5040 + and then trail.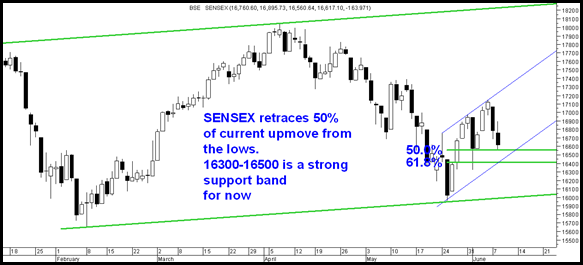 TECHNICAL ANALYSIS TRAINING SESSION MUMBAI ON JUNE 12-13
NOW AT A HUGE DISCOUNT OF 50% ( LAST SESSION FOR THE MONTH)
For more details download the pdf for details.
50% Dhamaka from Analyse India
For more details call Kazim 09821237002 or mail to analyseindia@gmail.com
Stocks to watchout for :
In the last few months we have found pretty good 10% move up trades in metals 3 times. As of now i do expect they might be close to bottoming out but risk-reward is still not favorable for the 1-3 session trade.
But bottom fishers can start buying slowly in Tata Steel and Jindal Steel with strict stops and strict targets of 7-10%
Check the charts below to get a better idea.
JINDAL STEEL :
Lots of bottoms around the 600 mark. Will it hold up again. Think so and give a bounce to 650 levels. But if it breaks down below 595 it could be a quick trade on short side. So good risk-reward and a clean trade of 40-50 bucks it seems.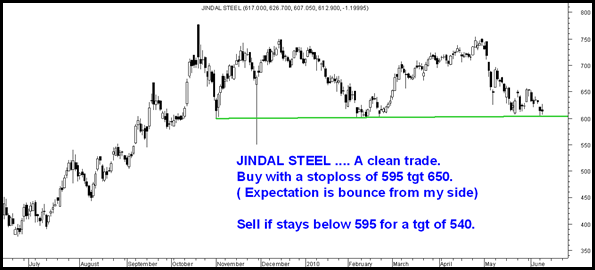 TATA STEEL :
Lots of supports in the band of 425-450.If it comes to the band then a good risk-reward trade.