Sensex Technical View:
Just picking up the lines from the earlier detailed report of
Even if one is bearish I would expect a bounce back to first set in from 16k levels. And if one is bullish then before going to 18500 it has to first touch 17k in between. So a bounce back trade is definitely low risk high returns
Bang on Sensex makes a low around 15960 and has bounced back to 17k ! As i have mentioned in my Probablility Chart that we would review the scenario around 2nd week of June by which time i would expect the orange part of the move be done i.e a move to 17k-172500.
Technically we should now pullback a bit from this band or at least take a pause for a few sessions. We would review the same in the middle of coming week.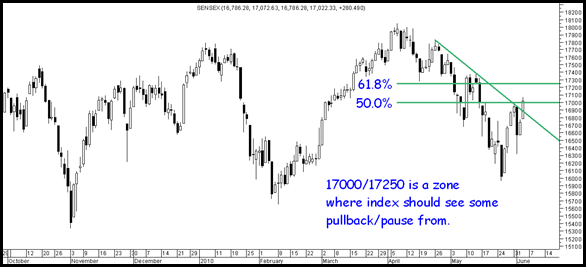 Bottomline : Those who bought on our call at 4800 are at gains of 300+ points on Nifty should now book profits and enjoy the weekend.
Rest who would like to continue the learning and earning process can join our courses which are at a discount of 50% for next 2 sessions in Mumbai. So to take the next step towards confident and independent trading decisions call Kazim 09821237002 to book your seats.
TECHNICAL ANALYSIS TRAINING SESSION MUMBAI ON June 5-6 and June 12-13
now at a huge discount
For more details download the pdf for details.