Sensex Technical View and Nifty Technical View :
The moves in Sensex/Nifty have been so precise on technical charts it just seems either majority of the analysts are not seeing it or the belief in the knowledge is lacking. Because at 15900 we heard a lot of Bearish Voices and suddenly at 16900 it turned bullish.
The Nifty posted trades advised ( although i dont give much of Nifty trades much of it is done by Shams in Intra Day calls)
Nifty futures buy around 4800-4850 booked 150-200 points higher.
Re-entry at 4960-4980 which we would book part of it tomorrow. ( Had put a tweet about this- To follow us check box on right)
Ideal target for Nifty would be 5125-5150 which is 61.8% retracement of the downmove. One should look to review the positions around the same. Sensex levels come to 17250.
Reliance Inds freak Trade at 840 Rs. Mistake or something Fishy- Why so Serious?
Although am not a journalist blogger who keeps reporting on Nifty futures discount, Freak Trades, Manipulations and etc but the amount of discussions on certain aspects of the markets makes me put in a few of my crap thoughts too 🙂
Through the day the blame shifted from India Infoline dealer to Indiabulls to some European fund and i still dont know who it was. Well because it doesnt matter to me logically unless i am too inspired by my liking of Sherlock Holmes.
There is a belief that freak prices are generally seen in normal markets ! So quite a lot of traders believe just because of some butterfingers Reliance Inds could come down to 840.
Freak trades are a part of the Exchange trading and if it mattered and could change course of direction of a stock i bet quite a few HNIs/institutions would fiddle with illiquid large cap stocks.( Nobody likes to pay for fun)
For now if i see the charts i do see a possible freak trade of 1184 in Reliance on 11 January when it announced LyondellBasell bid. NSE high price was 1149.
So which should come first ? No logic to it.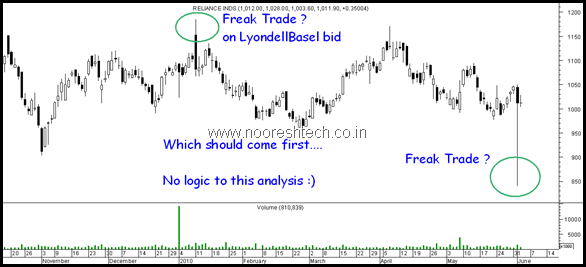 If i were to apply same sort of useless logic of freak prices then i would have quite a lot of predictions which people would love to laugh on 🙂
Bharti Airtel 485 freak high in Sept 2009
DLF 520 freak high in Oct 2010
PNB 1150 in April 2010
Tata Steel 739 in April 2010.
Well so do you still believe the theory? Even if you dont there would be many articles creating a conspiracy case on the same freak trades 🙂
TECHNICAL ANALYSIS TRAINING SESSION MUMBAI ON MAY 29-30
now at a huge discount
For more details download the pdf for details.
50% Dhamaka from Analyse India
Stocks to watchout for :
Hero Honda breaksout above 1950 should target 2050.
Divis Labs headed to 800 hold on.
NALCO has given a breakout above 420. Buy on dips stoploss 410. Only issue low volume stock.
Market Buzz suggests a strong move in TN petro as it has a good holding in Henkel India which might get sold of or see further upmoves.
Bharti Airtel and RCOM seem to be seeing yet another round of oversold bounces willl they be able to conquer 300 and 170 ? Difficult but can take a shot at those high prices
Midcap Banking stocks continue to look bullish.Ride !