Before i start the post the last time i gave a similar call was Hindalco at 135 and Tata Steel at 545. Although we got a quick 15% in a matter of few sessions but the stocks gave a major turnaround and did 185 and 650 + in coming period. Will it be the same this time ? I am still interested in my 10-15% quickie rest we will see.
Had explained the trade with a detailed video analysis – Hindalco and Tata Steel 10-15% in a week Video Analysis
A few days back had given the call about bounce in Hindalco and Tata Steel on the blog
( also a sesa goa call was messaged)
Also i had sent a free message to people who have joined us on google sms channel / smsgupshup/yahoo messenger
Check the charts below to get a better idea.
Tata Steel – 560 to 605 and more to come.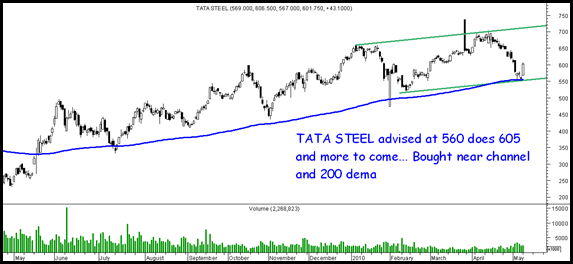 Hindalco 160 to 175 and more to come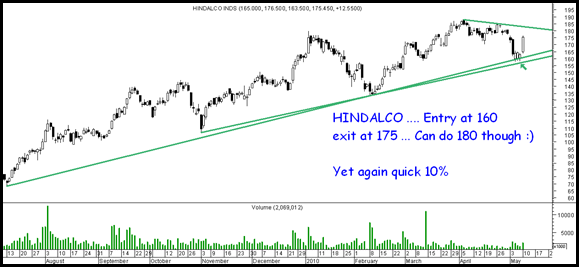 This is how clean technical trading can be done.
Can you do it better ?
Yes. You can be better if you understand the art and do lesser mistakes then i do :).
if you go through our 2 day training programme the next schedule for Mumbai is on May 15-16. For more call Kazim 09821237002 or Nooresh 09819225396.