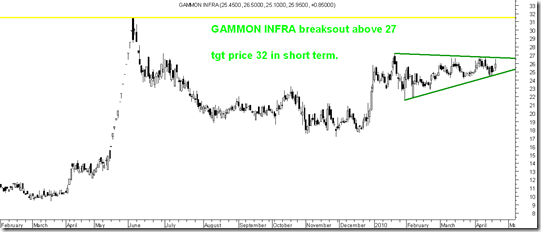 Classic Example of breakout trade.
The stock chart was also earlier mailed to our QuickGains Newsletter and Delivery Gains in a report. Can disclose the report as there is one stock which is still open 🙂 .
(22-04-2010 2:09:13 PM): Buy Gammon Infra above 27 stop of 25.7 tgt 29.5-32 in short term. Chart mailed earlier.
(22-04-2010 2:27:12 PM):  Book part in Gammon Infra at 28.7-29.5 hold rest for 32 in short term. Tata Motors tgt achieved.
For more about our advisory services call 09833666151 Asif  or check link https://nooreshtech.co.in/services