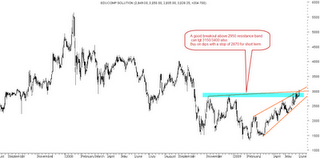 EDUCOMP :
The stock was mentioned yesterday about a quick move above 2960 in short term. The stock has broken above that levels today and may now tgt 3150/3400 in short term. Keep a stop of 2870 . ( disclosure ; Recommended to clients at 2930-2950 today)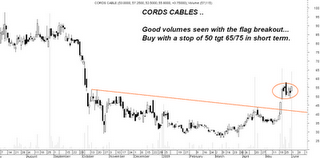 CORDS CABLES :
The stock has seen good amount of volum built up and can move up sharply to 65/75 levels in short term. Buy with a stop of 50.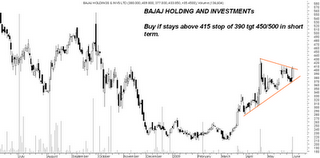 BAJAJ Holding and Investment :
The holding company of the Bajaj Group. As the holding company the stock can get re-rated after a sharp move in Bajaj Auto / Bajaj Fin and other holdings. Technically above 415 can shoot up to 450/500 in short term. 
There are lot many stocks which do look good for short term but cannot put up all the charts. 
Guj Alkalies, Bombay Dyeing , Orchid Chemicals , Shaw Wallace , Manugraph , Venus Remedies is what technical analysts can check for ... 
TECHNICAL ANALYSIS SESSION ------ DELHI 
Tentatively planned for JUNE 20-21. 
To book your entry mail to noorrock2002@gmail.com or call 09819225396 for more details. 
Best Regards,
Nooresh