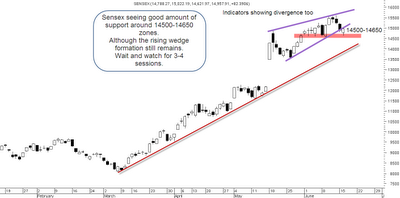 Sensex Technical View :
Surprise Surprise!
Sensex continues to hold up in spite of global weakness and holds above 14600 level. The levels of 14500-14600 have been a very good support with almost 4-6 hits around that zone.
The no of times index has tested 14500-14600 makes it more brittle and it becomes clear for a short term trader is to keep a stop of the same or continue to wait for a clear move beyond 15500. Any break below 14500 would take the index to 13700 levels also.
In simpler terms its a stale mate where the index itself is indecisive about the next move so one is better of watching and reacting on signals frm the market.
Stocks to watchout for :
Continue to maintain the view to stick to defensives and be very strict with stops/keep volumes low and trade less.
Great Offshore
Earlier covered at 310-330 levels the stock did rise up to 390 and was sideways for quite some time. The stock can be bought on dips to 370-385 with a stop of 360 for a tgt of 450 also possibly.
Guj Alkalies, Strides Arcolab, Tube investments,Apollo Tyres are fresh breakout on charts but already moved up sharply but could be a short term trade on intra declines
Speculative buying seen in Country Club on back of Mahindra Holidays IPO.
Insecticides India Ltd
The stock looks interesting in the agri space with pesticides products. Book value of 60 + low debt and p/e of less then 5 ( rest ppl can research in details) . Technically volumes are encouraging in the last few weeks and can tgt 70-90 levels in medium term. half of the intended expsoure can be taken at current levels.
Please do your own research!
Planning to conduct a webinar this weekend discussing Why to use Technical Analysis and a brief view of Sensex and other global indices. Trying to test this medium of communication.
Readers need a headphone/mike and 30-60 mins on Sunday morning/afternoon. Will soon put up exact time.
Register yourself on www.wiziq.com
Mail to analyseindia@gmail.com and noorrock2002@gmail.com to get the invites ( would receive it from www.wiziq.com ) .
TECHNICAL ANALYSIS SESSION
( the course is meant to make you independent and be able to analyse in the simple manner as i do.)
Interested participants can contact as early as possible to confirm your seat - 09819225396.