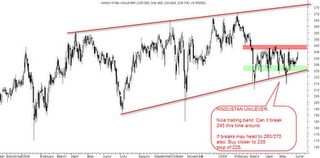 Sensex technical View :
Couple of dojis on top closer to previous high does send signals that the index is yet not decisive about the next move. 
But a doji doesnt give a confirmation of a turnaround but just a caution to wait and watch for next few sessions. Simply put last 3 sessions low is around 14600. Sensex if closes below 14600 convincingly may possibly see it testing supports at 14100/13700 in short term. 
Although index continues to remain choppy at higher levels this bout of volatility may increase for next few sessions. Continue to be stock specific trade with more strict stoplosses. 
Market Observations and Thoughts :
Every day i have been getting numerous questions like What to invest in ? What to buy for short term ? . The major link missing is WHY TO BUY !!! . 
Is it because a stock has been on circuits for last 20 days so it may stay for another 10 days or just because the stock is up 5-10% daily it may continue to forever. 
I believe as a trader and investor one needs better reason to bet your hard earned money as with leniency and no discipline it doesnt take much time to lose quite a bit of gains made through hard work in last few months. 
This is not a sell call but just a few words about being disciplined and conserving capital and gains to be more important then profiteering coz of luck.
Stocks to watchout for :
Assam co ckt , Shaw Wallace now book , Manugraph hold on. 
Tata Motors gives good move 355 to 375 in the day. Bajaj Holdings completes tgt. Nicholas Piramal hold. GAIL buy arnd 290-295 with 10 bucks stop. 
HINDUSTAN UNILEVER 
The stock can be bought on dips to 235 stop of 228 tgt of 245 for short term trading. Chart already posted ( disclosure recommended to clients at 232 2 days back ) 
Intra day trades can look to buy Bharat Forge arnd 186-188 and Zee at 186-188 with a stop of 182 in both the cases for tgt os 195/199 
MIDCAPS STOCKS which need some fundamental analysis to be done. Hope readers will contribute this time around. None seem interested in Feb/March when i used to come up with a list ! 
Maithan Alloys 
Alembic Ltd 
Classic Diamonds 
Uflex Inds
Saksoft 
The stocks do look technically well placed for an appreciation of 15-40% over next 1-2 months. Fundamentally also look interesting but needs more study. So do your own research. 
MAY PERFORMANCE REPORT 
A brief illustration gives a return of 40% on both investment and trading portfolio in the month of May. 
Although have not checked the report as not much time left after analysis. But yes it roughly tells us an awesome return of 30-40% in May month. 
Please go through the report and let us know if any mistakes ( Report made by Ankit one of our old readers and part of our team ) . 
TECHNICAL ANALYSIS SESSION
Interested people CALL - 0981922539 Nooresh for more details/queries /confirmations and more. ( aftr mkt hours ). 
Best Regards,
Nooresh