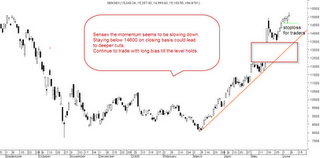 Sensex Technical View :
The momentum on the index seems to be slowing down. Volumes have not increased sharply on cross of 15k. Lot many indicators are giving negative divergences ( but thats been seen since 12k 🙂 
Simple approach suggests recent bottoms around 14600 is a level to watch for any trend change or dips. Till then continue to trade with long bias and a possibility of 15500/16200 remains open till the level  is not breached on closing basis. 
Stocks to watchout for :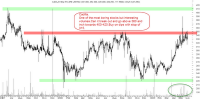 Click to enlarge chart. Cadilla view posted. 
GAIL chart earlier posted is still in the range but if stays above 318-320 can expect a quick 10-15% move in short term. Keep a stop of 304 if trade triggers. 
ITC has taken a dip and has good support around 1801-185. Buy on dips to 185 zone with a stop of 179 for a bounce back to 195-200. FMCG stocks like Nestle also looks good. 
ING Vysysa Bank
The stock has seen huge volumes with 90% delivery.  Stock can move up to 210-230 in short term. Buy on dips with a stop of 170. 
YUKEN India,Bosch  and Asahi India glass look good on charts but stocks only for investors who can patiently sit back and wait. 
SMALL CAP STOCKS which fundamentally sound people can check and post back 🙂 Prices seem to be suprressed due to market conditions. 
Cerebra Int   
CS Software 
Dhampur Speciality Sugars
Intell Visions Soft  ( FIIS like Merill and Goldman hold 20% stake still holding ! ) 
Tyche peripheral
TECHNICAL ANALYSIS SESSION 
DELHI JUNE 20-21 
Interested participants can contact as early as possible to confirm your seat - 09819225396