RECENT POSTS  to read:

TECHNICAL ANALYSIS SESSIONS PLANNED FOR MUMBAI /DELHI -- ( this will make u independent )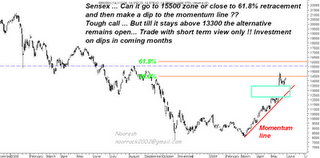 Sensex Technical View :
Technically the up trend continues to remain strong as it has seen good support around the gap area of 13500. 
"" Sensex is currently in the B wave which is not a BULL RUN as dubbed by some Elliot wave chaps ( will speak on them in next post ). This move should touch 38/50% levels of the total fall from 21k. Corresponding levels are 12900/14500. This move in the extreme case also should not cross 15700-16k ( 61% level )"""
Sensex has achieved the tgt of 14500 and in the extreme case it can even retrace back to 16k levels maximum which is 61.8% of the entire downfall from 21k to 7.7k. The previous top at 15580 would also be a major resistance. 
The index might have moved up 100% from the lows in that case but technically we would term this a correction of the downfall and major base building for the next bull run where in we may see a contraction phase which may get into a range for quite some time. 
The next move now has two alternatives would be 
Sensex intermediate top made at 14930
Then the index should retrace back 38/50% of the entire upmove from 8k to 14.9k. So the levels then would be 12300/11500 where one could look to review the situation to look for long term picks same way as we did at 9k
Sensex intermediate top at 15.5k-16k 
Then the index should retrace back 38/50% of the entire upmove from 8k to 14.9k. So the levels then would be  around 13k/11.8k roughly will get exact once we confirm the top. 

As a strategy investors/traders should now be extreme short term and very stock specific ( moves could be more here ) in the range of 13500/15500 with a view to book partial profits and generate cash as and when the momentum slows down to keep position to again buy on the pullback. Opportunities to trade will be abundant 🙂 .
Ideally we could well have a nice dip once we can co
nfirm the intermediate top formation in next 2-8 weeks subsequent to which we could see a slow drifting downwards move where we may again research for fresh set of stocks. 
Dow Jones and Hang Seng - two index havin good co-relation with Sensex 
Dow Jones if crosses 8500-8600 could well be headed towards 9100 or higher. On the downside 7800/8100 remains a good support. 
Hang Seng has given a fresh breakout above 17500-17800 if continues to stay above these levels then it may head to 19k-19.5k in short term. On the downside 16k/16.5k remains a good support. 
So lets c how it pans out in the next 2-8 weeks. The view is clear i suppose ! 
Bharti Airtel  ( recommended to clients at 758 a day back ) does a nice move to 800 + levels continue to remain bullish for possible tgts 810/84
0. Nicholas wait for breakout . HCL tech hold. Great offshore and Venus remedies view remains bullish for short term. 
Alstom projects  chart and view posted . Above 470 could move quickly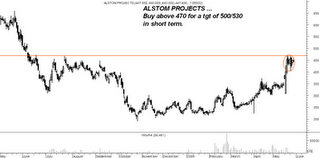 Zee buy above 184 with a stop of 177 tgt 192-200 
Sintex Inds buy above 231 stop of 223 tgt 250 +
NTPC buy arnd 208/203 stop of 199 tgt 215/224 
MIDCAPS to watchout for buy with 4% stop tgt of 15%  :
09819225396 ( aftr mkt hours )