The last post was on Tata Global was also around the current levels and we saw a good bounce to 165 odd levels.
Technically the stock has generally seen support around 135. In the current move maybe it can dip a little below and could be used to accumulate with a long term and even a short to medium term view.
One can look for a bounce back to 160/170 in short to medium term and also will be a good long term bet for investors.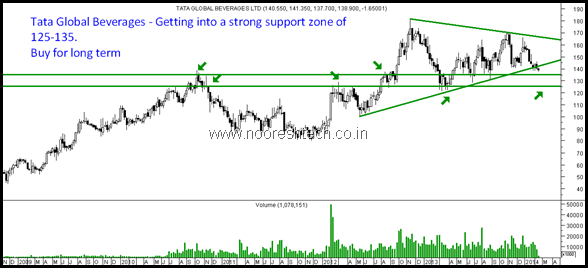 TECHNICAL ANALYSIS TRAINING MUMBAI
NOVEMBER 16-17
Details of the course content on more given https://nooreshtech.co.in/technical-analysis-training
To register for the course mail to nooreshtech@analyseindia.com or call me on 09819225396 ( after market hours )
For online payment https://www.instamojo.com/noooreshtech/technical-analysis-training-mumbai/
For account details – https://www.analyseindia.com/analyseindia/page.jsp?pageid=19
Thanks and Regards,
Nooresh Merani
Twitter – https://twitter.com/nooreshtech
Facebook – https://www.facebook.com/nooreshtech
Cell – 09819225396