Today two stocks Pfizer and Wyeth Laboratories are up 15% each.
Here is the link to one of the articles -  
The respective boards of the Indian units have also announced an interim dividend of Rs.360 per share for Pfizer shareholders and Rs.145 per share for Wyeth shareholders. The equity swap ratio was decided after announcing the dividend payout.
Now this might be a great thing for shareholders as both the stocks are up 50-70% in last 3 weeks. But as a fact they also took a hit of 30-50% in last 2 years. So net net they are back to the highs which they did 2 years back.
But some insiders made a net of 50-70% in 3 weeks. Look at the chart below how volumes suddenly increased in last 2 weeks.
On one of the days Wyeth even hit a 20% upper freeze without any news announcements.
Isnt this a clear case of insider trading. And mind you these are two big MNCs and not some small cap punter stocks.
Sadly did notice a technical breakout on pfizer but gave it a miss because it was a sad stock for last 2 years.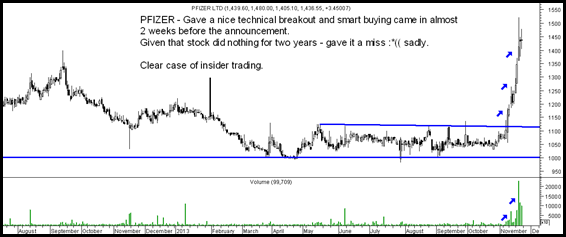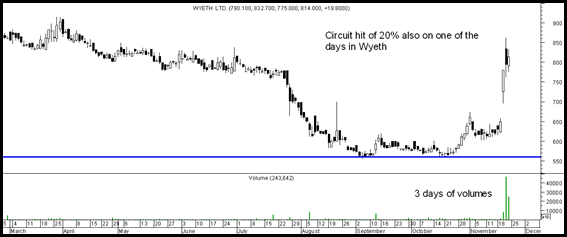 All said and done this is how markets work 🙂 Insiders know it all and its evident on charts. So got to take some risk and get into the stock when you see it.
Maybe our regulators need to look at who these smart insiders were 🙂
Thanks and Regards,
Nooresh Merani
Twitter – https://twitter.com/nooreshtech
Facebook – https://www.facebook.com/nooreshtech