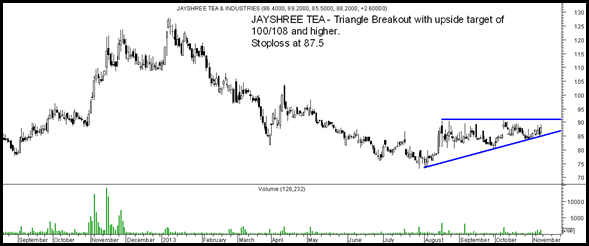 In todays trade the stock has broken out above the trendline at 91.
Can see some momentum moves in coming few sessions.
Triangle Breakout gives an upside to 100/108. Stoploss would be placed at 87.5
Disclosure: Advised longs at 91 to clients.
Also please do your own risk management in small cap stocks and keep strict stoplosses and profit booking on targets.
TECHNICAL ANALYSIS TRAINING MUMBAI
NOVEMBER 16-17
Details of the course content on more given https://nooreshtech.co.in/technical-analysis-training
To register for the course mail to nooreshtech@analyseindia.com or call me on 09819225396 ( after market hours )
Online Payment
https://www.instamojo.com/noooreshtech/technical-analysis-training-mumbai/
Enroll for Technical Analysis Training Mumbai November 16-17Powered by Instamojo
Thanks and Regards,
Nooresh Merani
Twitter – https://twitter.com/nooreshtech
Facebook – https://www.facebook.com/nooreshtech