Over the last few months i have heard a lot of fundamental analyst saying people were stupid buying the Cyclical stocks.
They just keep giving examples of how one should buy good cash flow companies in the FMCG sector. Also there are many examples of how ITC, Hindustan Unilever, Godrej Consumer, Colgate and Dabur have withered the current storm and have given positive returns.
Actually Nifty has been able to hold on to 5500 levels because of the huge outperformance by ITC and HUL.
Over the last 3-4 years from the lows of 2008-2009 to 2013 quite a lot of stocks have moved up 3-4 times and 300-400 %.
Flash back to 2006-2008. Analysts would call the FMCGs a sluggish sector and what not because they did not perform at all when the Unitechs and Suzlons were zooming.
Let us look at the last 10-15 year performance of the above FMCG stocks.
Hindustan Unilever – No returns for 10 years.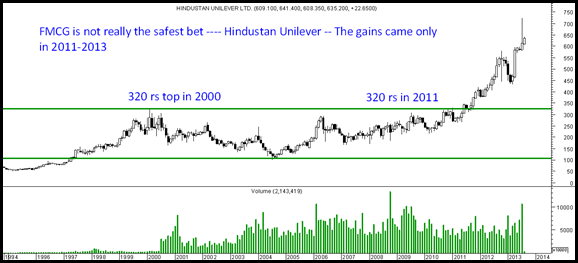 -> Hindustan Unilever the stock has doubled in the last couple of years.
-> Also above chart is not adjusted for the dividends.
-> After 1999-2000 tops of 320 the stock did not cross the levels of 320 for the next 10-12 years.
-> In this period the stock even dropped down to a low of 100 in 2003-2004.
-> If you would have bought in 2003-2004 the returns would have been phenomenal but if in 2000 you would be in a terrible investment.
->The stock was a major underperformer in 2006-2008 where we saw the biggest gains in equities.
-> The stock has done superbly in last couple of years does not guarantee the same for next 5 years.
ITC – Superb Returns though some sideways period for 2-5 years.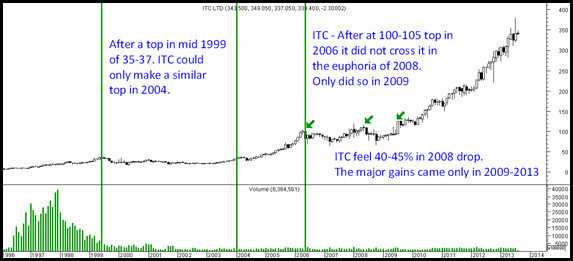 -> One of the smoothest chart in last 10 years.
-> But if you were to look at the phase of 1999-2004 the stock could not cross 1999 highs.
-> Similar periods was also seen 1992-1997.
-> Also in 2006-2008 it could not cross 2006 highs.
-> The stock also fell 40-45% from peak in the drop of 2008.
-> The major returns in the stock have come from 2009-2013 where in it has given 3-4 times return.
-> Does this guarantee a similar move in next 5 years ?
Colgate – A big FMCG stock with the longest sideways cycle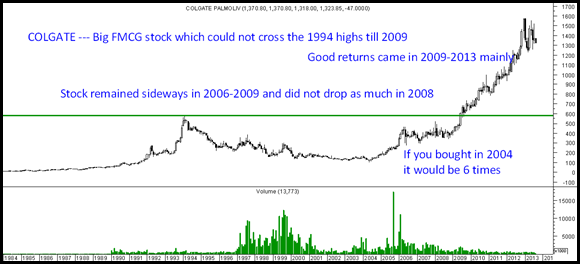 -> The stock had the superb run in the 1980-1990 ( I believe people got it cheap in the IPO because of the regulations and compulsions in the 1980s )
-> After the superb run in 1994 the stock could not reach similar levels till 2009. This is like 15 years. This is not a dividend adjusted chart so returns came only in form of dividends.
-> The stock saw a good correction also in the next many years from 1994.
-> But if you would have bought in 2004 i would be 6 times in next 5 years.
-> The stock remained sideways in the bull market of 2006-2008.
-> Majority of the returns have come in 2009-2013.
Godrej Consumers – A superb Multibagger in last decade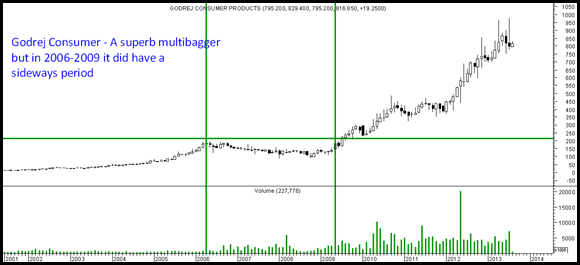 -> This has been the biggest mover in the FMCG segment with lesser dips and sideways period.
-> In 2006-2009 the stock did remain sideways but did not fall as much in the crack of 2008.
-> The stock has moved up 5-6 times in last 5 years.
-> If you were to look at from 2001-2002 the stock has been just amazing !!!
Dabur – A steady performer but the top in 1999-2000 was painful.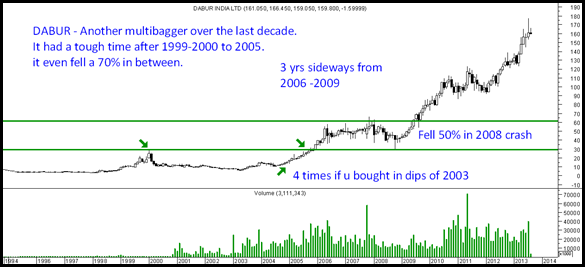 -> The stock has moved superbly from the lows of 2003 and 2009 giving superlative returns.
-> As like others it saw a major sideways period between 2006-2009.
-> The stock also did drop 50% in the fall of 2008.
From the above analysis what we come to know is
-> FMCG stocks can also fall 50%.
-> FMCG stocks have 3-4 years of sideways period and can drop 50% in the interim.
-> Many older FMCG stocks also had a 10-14 year sluggish period.
-> FMCG stocks underperform terribly in bull markets like they did 2006-2008
-> After a major euphoric move in a decade FMCG stocks can get into a terribly frustrating stock movement for many years. ( 1992-1994 , 1999-2000)
-> The  drawdowns or pits or not like other cyclicals which fall 80-90% from peaks. ( Look at Tata Motors, Infosys, Tata Steel etc )
-> FMCG stocks are not immune to bear markets.
-> FMCG stocks tend to underperform terribly in bull markets.
Conclusions – The best time to buy FMCG is when they are available at good dividend yields and after a long sluggish period for investors.
So if you are buying FMCG today then better be aware that after a year or two or maybe we may right now be at 1994/2000/2006 type topping out.
Do not let the superb run of last 3-4 years be the deciding factor to choose FMCG stocks. HUL buying at 600 is more a loan arbitrage ( Yeye they raised a billion dollars in US check this link  ).
If an investor do a little more research before just taking A so called SIP in HUL or FMCG stocks. This may not be the best time for FMCG.
The best buy in FMCG are new brands. According to me that could be Bajaj Corp ( Example Marico and Godrej did superb in last decade)
For traders the best time to buy FMCG is in 3/5/10 year highs.
Disclosure: The only FMCG type of stock i like today for the next 5-10 years would be Bajaj Corp. Had a short view on ITC given at 370 .
TECHNICAL ANALYSIS TRAINING SESSION MUMBAI
AUGUST 10-11
Can check a brief on the course outline https://nooreshtech.co.in/technical-analysis-training
TECHNICAL ANALYSIS ONLINE TRAINING SESSION IN AUGUST
This would be done through webinars.
For more details mail on nooreshtech@analyseindia.com or call Nooresh 09819225396 Ankit 09899899989
Nooresh Merani
www.analyseindia.com   ( For all our services )
Twitter – https://twitter.com/nooreshtech
Facebook – https://www.facebook.com/nooreshtech