USD – INR – Nearing major resistance and now near 2001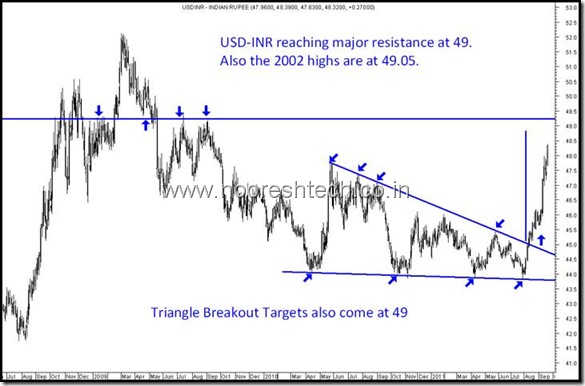 USD-INR after making multiple bottoms at 43.8 zones gave a breakout above 45 recently and has spiked up sharply. The target projection for such a breakout would be 49 in short term which has been reached.
At 49-49.2 we have lots of previous bottoms/tops acting as resistance and with a such a sharp rise we may expect USD-INR to consolidate and even dip a bit to sub 48 levels.
Also the major top for USD-INR last seen was in 2002 around 49.05 levels. The only time has breached above 49-50 levels was in the panic of 2008.
So in the near term as well as medium term 49.2-49.5 becomes a critical level and also a possible topping out case.
Only a move above the level of 50 could imply a panic in currency like 2008 but it was very short-lived.
USD-INR and SENSEX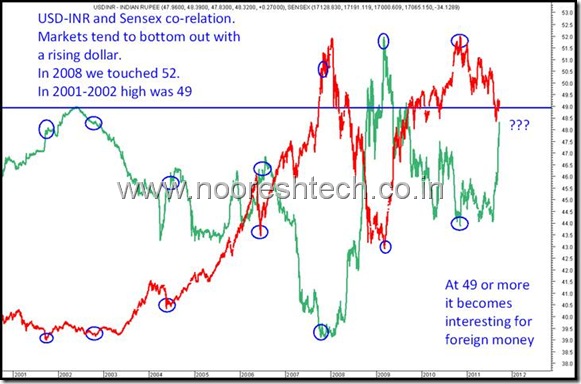 USD-INR – Green Sensex – Red ---- Line Charts
If we try to compare various peaks/troughs( shown by blue circles ) on Sensex with USD-INR its generally seen major bottoming out formations have come with a spike in USD-INR. Comparing the current correction with 2008 it is seen that a dollar spike between 49-52 creates a very important long term bottom.
Also one thing noted is USD-INR has never stayed above 49 levels for more then a few months. The max period being 1st half of 2009 when markets bottomed out and we saw a lot of foreign money coming in post that.
Looking at a similar comparison possible scenarios would be as below
a) USD-INR tops out at 49-49.5 and Sensex is pretty close to important bottom.
b) USD-INR sees a spike to 50.5-52 with a panic like scenario in Sensex taking it sharply down for a short jerk.
c) USD-INR goes over the roof of 52 ( not consided as of now- Out of the blue scenario ).
Conclusion:
The USD-INR relation suggests that next few months could be a bottoming out phase for Indian markets ideally with a possible top at 49-49.2.
In a worst case scenario we may see a spike in USD-INR to 50.5-52 with possible negative global announcements but such a crisis phase has not lasted more then 3-5 months. The strategy should be to increase equity exposure in panics.
On a simpler note for alll the readers sitting out of India the next few months are the best time to transfer money slowly over the next few months. With very high interest rates in India even if US dollar runs away to 52 the Interest Rate will take care of currency risk. Just my view no idea on tax or transaction charges 🙂
TECHNICAL ANALYSIS TRAINING SESSIONS SCHEDULE
BANGALORE SEPTEMBER 24-25
OCTOBER MUMBAI
To know more on Discounts & Details contact: Kazim on 09821237002 or Asif on 09833666151
Happy Investing ,
Nooresh