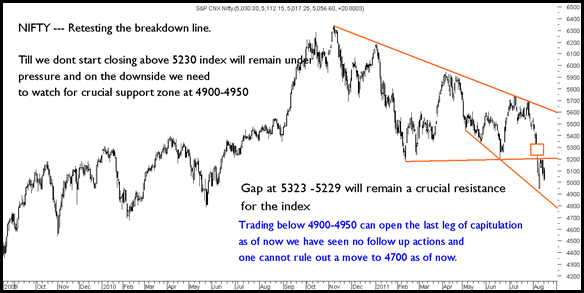 Nifty -
The breakdown has been confirmed but surprisingly there is no follow up selling seen yet. Generally after a breakdown below such important support levels there is a sharp correction which is still missing and we cannot rule out a move to 4700 levels and one should be prepared for it.
Resistance will continue at 5180-5230 gap resistance and till that level is not surpassed on closing basis markets will remain under pressure.
It remains a confusing market till the index does not give a follow up move out of this range of 4950-5200.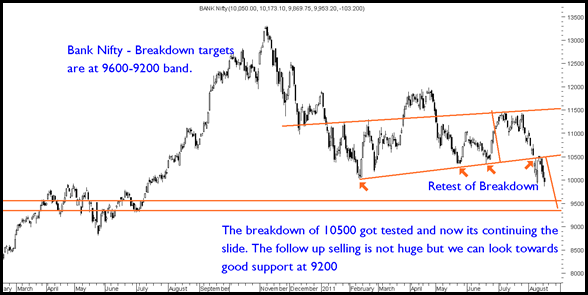 Bank Nifty –
The breakdown below 10500 got retested a week back and now seems to be headed to 9200 levels.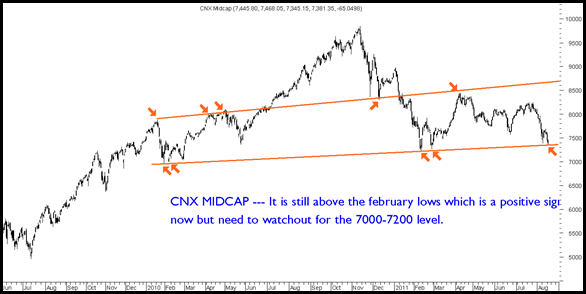 CNX MIDCAP -
The only sweet spot in the current market is that Midcap and Smallcap Indices are well above the February lows but we need to watch the 7000-7200 levels.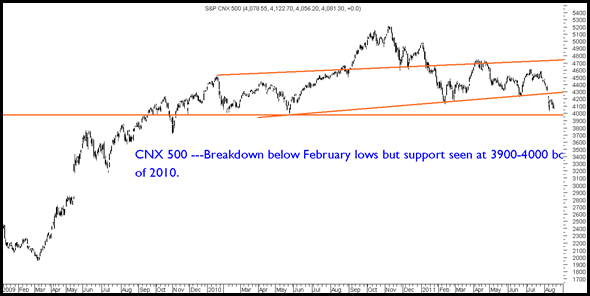 CNX 500
Though the index has broken below the February lows there could be some support coming at 3900-4000 which has lot many bottoms at 3900-4000.
All in all it seems like the tough times would remain for some more time and investors need to be cautious and very choosy. Also the view is to maintain cash levels at 30-50% to be able to utilize any opportunity in sharp declines.
Deploying cash at one go easier then to sell the whole portfolio at once. So its better to stay on higher cash when not comfortable.