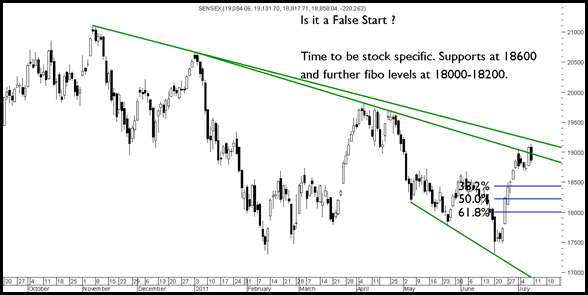 Sensex Technical view:
What seemed like a breakout a day back is now looking like a false start. But this move being the first hit on the trendline it would be too early to consider it a false start or a short term top.
Good supports are placed at 18600-18650 and 18000-18200 are fibonacci  retracements. But one thing seems to be clear index could head to 18000-18200 or 19600-19800 over the next 1 month or so.
Till the index remains in this range it would be a good time for stock specific trade.
Stocks to watchout for -
Divis Labs and Siemens looks good on dips for bounces.
Market rumours suggest good announcement on cards in JB Chemiclas. On the valuation front one can slowly buy at 135/120 zones.
Investors can look towards Asahi Songwon colors on declines to 108/95 with a long term view.
Regards,
Nooresh