Sensex Technical View:
Well as i had mentioned that an exercise to find bottoms is not the best thing to do and in such downfalls we cannot confirm a support till it holds and is seen with a follow up.
Recently we had taken a call to deploy some cash back but have now again got back to 50% or higher cash which was generated at 19900/19000 levels. We may prefer to go positional only when Sensex breaches 18550 levels or cracks.
But continously watching how Sensex reacts around the 17800 mark.
Sustaining below the 18800 mark is clearly a sign that the strong momentum and Channel Breakout seems to be negated unless we see a sharp reversal. So its not just a correction but time wise too.
Now lets look into two contrasting Technical Observations.
RSI has shown first indications of positive divergences which suggests a sharp pull back anytime soon. But we need a follow up move above 18550 to give it enough weightage.
Also 17800 could be critical if that holds positive divergence will hold.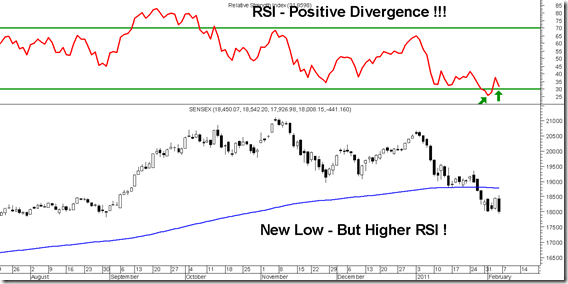 On fibonacci Retracements
1) Entire upmove from 8k to 21k – 23.6% retracement comes to 17800-18000. None of the last falls have broken that.
2) 61.8% Of the move from 15900-21100 comes again closer to 17800-18000
Apart from that we have many previous tops and bottoms in this range.
Sensex Inverted Chart
As we generally see all of us are perennial bulls. So just to take a different picture have inverted the Sensex Chart.
It creates a scary picture of a Bullish Breakout above 17800.
This basically implies weekly closing below 17800 can be deep.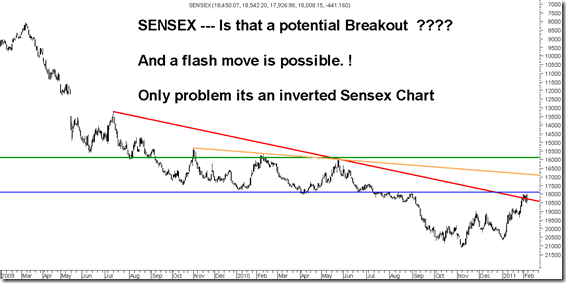 For now let us wait for the next week for more clarity.
If you are not in the market all you can lose is an Opportunity, But Hanging around for no reason can cost you badly.
Cheers,
Nooresh