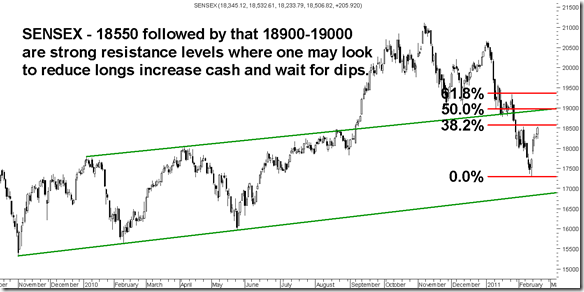 Sensex Technical View:
In the last few days what we have seen is a normal recovery after indices being highly oversold.
The bounce has been almost 1000 points from the bottom giving good trading opportunities.
But very soon around 18550 and 18900-19000 levels it will be very difficult for the index to cross and continue the upward momentum.
After such a drop markets do tend to retrace 50% of the fall. So we may expect the upsides for the short term could be limited to 19000 levels approximately.
On the downside we have couple of bottoms at 18200. So for a short term trader range could broadly be 18200-19000 levels.
Strategy :
As i have suggested before have increased cash exposures to very high levels ever since 19000/19900 breakdown and the focus has been purely on short term trades and no major investments.
A personal guesstimate is we may see such volatility till March end.
Only on sustained closing above 19200/19600 will we be able to confirm a change of trend.
Till then one should focus on conserving cash and generating trading profits out of the short term moves.
Stick to stock specific trades as index may not do much but certain stocks may outperform or underperform in a big way.