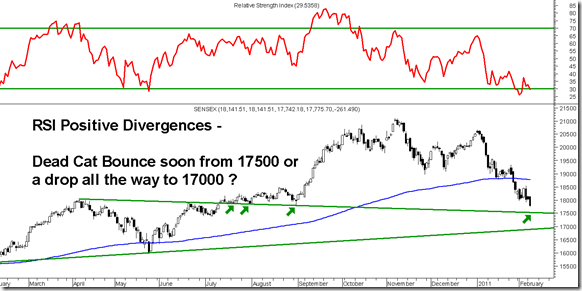 Sensex Technical View:
Sensex has come down to the band of 17700-17800 but not seeing any respite and in a downtrend one should not try catching a falling knife. Let the markets stabilize.
RSI is giving signs of positive divergences but no other positives seen.
Technically there is a minor support at 17500-17400 but the next major support comes at the lower trendline and the previous channel which is roughly placed at 17000.
Major fibonacci retracement for the move comes at 16100.
On the upside till we dont close above last 2 days high we cannot consider any positive momentum. For now such a level comes to 18200. Also markets on the upside may get limited to 18800 which was the breakdown level.
As mentioned ever since 19900/19000 the view has been maintained to keep 50% or much higher cash for investors. Although the prices might be tempting right now but a breakdown below 17800-17700 also opens a possibility of a flash crash to lower levels with some negative announcements.
Also its clear with the magnitude of the fall that markets may not get into a V shape reversal soon and investors may get opportunities to get back. So one may be very selective and continue to wait for turnaround signals.
Buying a little higher is more comfortable then to catch a falling knife and get hurt. None of the supports have been respected so the correction is not over till its over. And when its over we will get good turnaround signals on technicals and market observations.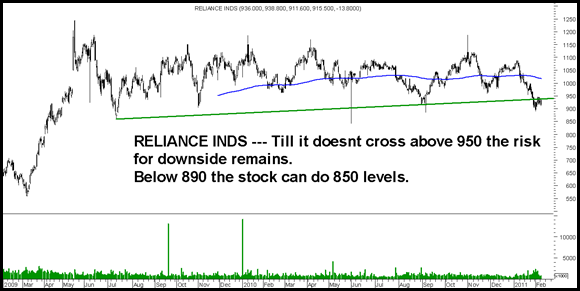 Recently a few days back we expected a bounce back and had focussed on RIL, ICICI , SBI and Hindalco as best bets. Got a 5-10 % jump on Hindalco, SBI small move, RIL and ICICI we preferred to exit on cost as still not comfortable on turnaround signals.
Reliance Inds as you see above after an initial move up could not cross was not a great signal. We may watch for a move above 950 to confirm positive moves. A move below 900-890 can even take it to 850.
Stocks to watchout for :
ABAN OFFSHORE has given a breakdown sell on rise stop 650 tgt 600-580
Many Banks like BOI, UCO bank, all bank , Yes Bank have given breakdowns and can head lower it seems.
Short trades seem to be clear on technicals but the positive divergences on Index makes it a bit risky but momentum traders can keep looking for quick shorts.
Bottomline :
When in Doubt Stay Out -
If you are not in the market all you can lose is an Opportunity, But Hanging around for no reason can cost you badly.
TECHNICAL ANALYSIS TRAINING DELHI  tentatively planned for February 25-26 for more details call Kazim 09821237002