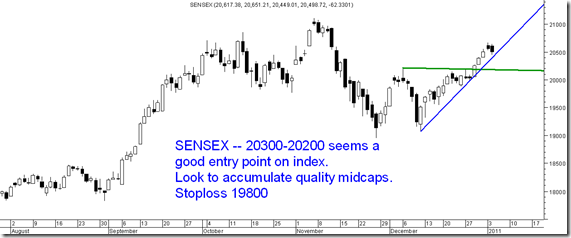 Sensex Technical View:
After breaking out above 20300 there is a good possibility it ma test closer to that zones. The shorter term trendline seems to have broken.
Investors/Traders should look to buy Index and Quality Stocks around 20200-20300 with a stoploss of 19800-19900 on closing basis.
Stocks to watchout for :
Earlier we took a directional call on Sugars then Metals.
Now the next sector to play catch up would be Mid Cap IT stocks.
Favorites – Mphasis, Polaris  and Subex ( Already moved up and booked profits but below 80 a good entry again)
Mphasis – Disclsoure recommended at 685 and Polaris at 186 levels. May book partial profits on rise.
Reliance Inds is another stock to watchout for – 1100-1120 as a resistance level.
ANALYSE INDIA announces the next 2 day exhaustive Technical Analysis training program in Mumbai on
January 8th and 9th
To register yourself call Kazim 09821237002 Asif 09833666151