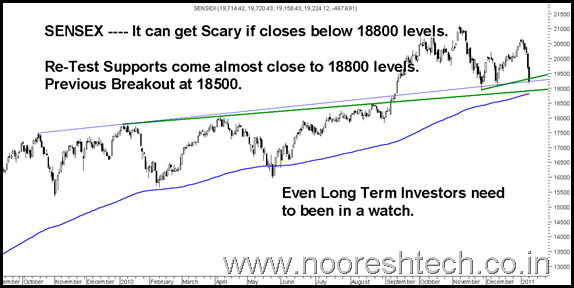 Sensex Technical View:
The last two sessions on Sensex have been surprising scary and unexpected with a quick drop of 1000 points. None of the supports in between have been respected. This gives a scary feeling but we have been getting such corrections often but not so quick.
Such a steep correction indicates there is something wrong in the market or its one big trap. But in either case its a difficult bet to take.
Technically the short term trendline has been broken with ease. On the weekly charts it should be considered as a re-test of the breakout at 18500 levels. The channel for the same comes around 18800 zone.
Also 200 dema comes at 18800. But any action from support levels can be taken only if there is some follow up buying or reversal signals else one needs to be strict with stoplosses and risk-reward.
In the next 2-3 sessions we would need to watch 19100/18950 and 18800 very closely as in such strong moves supports maybe broken but we need to see how it closes over the next few days.
Sustained closing below 18800 will dent the long term outlook and even investors with long term view should be watching the markets over the next few sessions.
Although on a simpler basis the multi-year outlook may change only on break of 17800 but a drop below 18800 would make this market a sideways and boring market.
My gut feel suggests index may not break 18800 on closing basis if it does i would be dead scared:) ( This is not a buy or sell suggestion). Although my expectation was 19900 holding up too 🙂
We had advised clients to exit all long positions absolutely on break below 19900 as it could lead to a drop to 19000 levels also. We may review our stance over the next few days till then CASH is a good position to have. WHEN IN DOUBT STAY OUT 🙂
Another interesting observation which i have been making generally is on RSI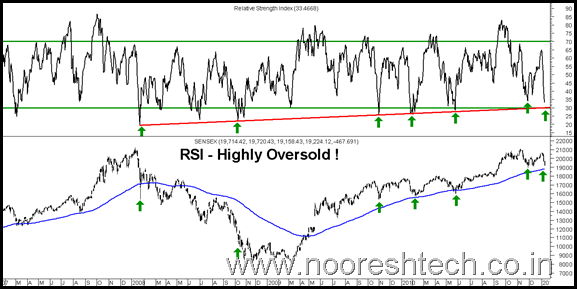 Ever since Jan 2008 never has the RSI went below the above red line. So any further drop will take it to highly over sold zones.
So if market has to break 18800 it has to be a panic or reason beyond the panics seen in Jan 2008 or Oct 2008.
Also the volatility Index has spiked up. So in next 3 sessions it should either find a bottom or create a panic.
Time to Wait and Watch and not hurry into any conclusions. We may re-enter longs a little higher but with more comfort and conviction. Its been one of the toughest times to trade !
Strategy :
Earlier we had advised people to control panic at 19000 levels as well as to exit all speculative longs and margin longs at 20300 and start being disciplined. Thereafter quite a lot of trades on Sugars, Metals gave nice returns and IT Midcap flopped but not cracked.
For now if you are holding on to long term positions keep watch over the next few days before taking a call. Buy selectively with a stoploss of 18500/18800 on closing basis but only quantities to which you can see notional losses as well as ready to exit if need be.
Ideally i would like to watch for the next 3 sessions before taking a call. Till then i remain highly optimistic in the Medium term.
TECHNICAL ANALYSIS TRAINING
Ahmedabad January 22-23
( Limited Seats)
Registration:
Kazim 09821237002
Asif 09833666151
Regards,
Nooresh