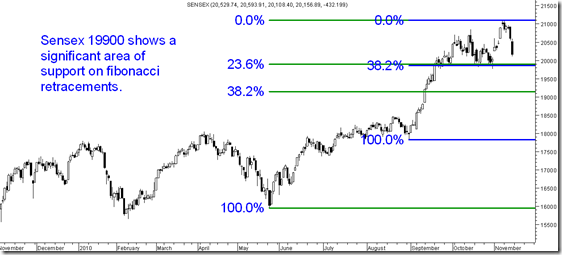 Sensex Technical View:
The last few days have been a quick surprise as after the divergences on indicators was expecting a slow dip and not such a violent correction. Simply put dint see it coming 🙂
Now lets look into the detailed observations.
Fibonacci Retracements :
- >38.2% of the current rally from 17800 comes closer to 19900.
- > 23.6% of the rally from 15960 comes to 19900.
We may ideally expect a bounce back to come for closer to 19900 + or – 100 points.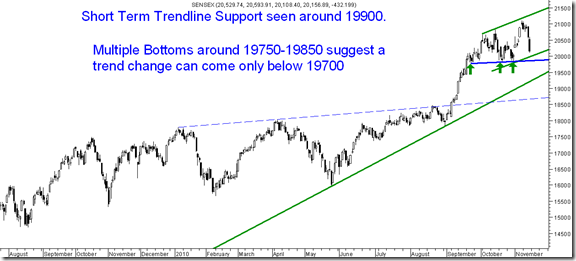 Trendlines and Channels:
- > Extreme Short term we saw resistance around the higher end of the channel at 21100. A similar channel line shows support around 19950-20000
- > Multiple bottoms have been seen around 19750-19850 which clearly indicates a trend change can happen only below 19700.
- > The longer term trendline comes around 19500 which is a steep trendline. Breakout of the channel was seen around 18400-18700 band which comes into play in worst case scenario.
Indicators:
Certain indicators will start showing oversold conditions in next 1-2 sessions. Although there are no indications of markets being highly oversold.
Although many indicators have given sell signals but we could see a whipsaw if markets dont crack below 19700
Conclusions :
- > There is a strong band of support around 19700-19900
- > On the long term 19400/18400-18700 are levels to watchout in case index breaks below 19700.
- > Investors need not worry and continue to look for stock specific opportunities.
Strategy :
Well one needs to understand that one may not get all the moves precisely. Like the one right now from 21100 to 20100 was clearly missed but if one is disciplined and does not go over-leveraged a 5-10% correction will not be hit badly.
So even if market goes higher to further levels of 21k-23k dont let the discipline be left and from here on strictly avoid dabba stocks.
Regards,
Nooresh