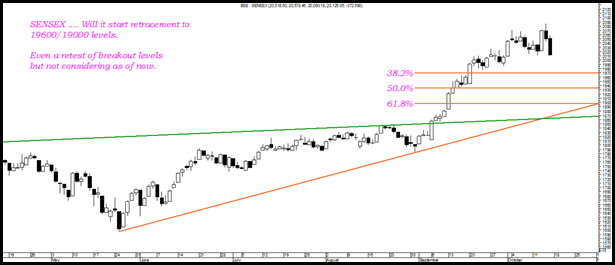 Sensex Technical View:
Before i start i would like to mention about how i went wrong in triggering stoploss day before when sensex crossed 20700 or roughly 6240 on Nifty futures.
Luckily the previous two dips from 6220 took care of the stoploss hit of 50-70 points but in trading one does have some bad patches 🙂 and one needs to be ready for it.
So for now what Sensex did by crossing last weeks high is a typical trap ( this could be confirmed if we stay below or close below 20050 on Monday )
The medium to long term view as posted in my detailed presentation remains the same. It would be difficult to cross 20500-21k levels without a reasonable correction. Retracement could be 19600/18700.
Short Term technical Observations:
Although sensex crossed last weeks high but the RSI gave a negative divergence yet again. Sustaining or closing below 20050 or roughly 6035 on Nifty would be a confirmation of a start of a short term correction.
Such corrections should ideally be 38.2% /61.8% which could roughly be 19000/19600 levels in coming weeks.
The major channel breakout for the index happened at 18400-18700 levels which can also be retested but is not necessary.
The long term trend for the index will only change if it closes below 17800. So the earlier base which was around 15500-16000 levels has now roughly been upped to 18k.
BottomLine:
In the near term index may get ranged between 20050-20850 or a break below could shift it to 19000-20500 roughly. Stock Specific moves may continue to remain so one needs to be selective but avoid over-trading or reduce volumes increase cash and book profits!