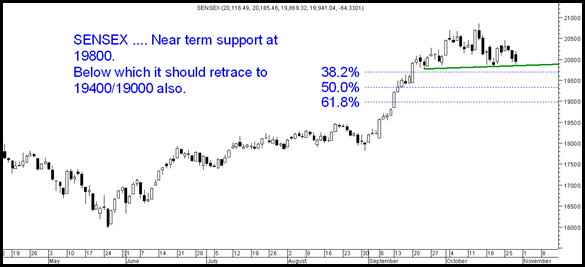 Sensex Technical View:
In the last 1 month there have been no of bottoms around the 19800 mark. The fibonacci retracements are placed at 19400/19000 which could be good entry points for an index trade.
So till we dont break 19800-19750 on daily basis we can possibly see a bounce.
Medium term outlook remains positive and we would review around 19400/19000 or when we cross 21200 till then its time to be highly stock specific.
Nifty Futures Premium 80 points.
Every expiry nowadays has been exciting with lots of Option writers or Rollovers being badly caught. In the last 30 mins yesterday index saw a huge crack but future prices for November did not see any drop so premium in Nifty was at one point of time 80 points.