Sensex Technical View:
As mentioned in my previous posts that i favor the possibility of an upside breakout but ideally it should test 17800/17200 levels.
Last week we did see a dip to 17800 but could not break further giving no chance for people to enter:). This could be an indication of an euphoric move also on upside in coming 6 months.
For now although it clearly seems a breakout there is a good possibility after the momentum now which could last this week Markets should retest the breakout zone at 18200-18500 or little lower before it starts the big journey ahead.
But overall its a stock specific market with many stocks having superbly overperformed indices. So i would stick to the process of Picking Good Stocks at Great Prices.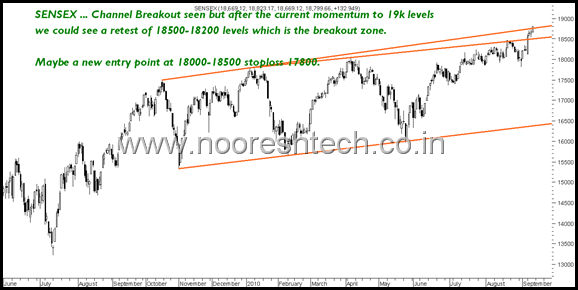 Stocks to watchout for:
DIC India : 
The stock has given an excellent breakout on Friday. Accumulate the stock for a target of 360-400 in extreme short term.
Disclosure: Recommended to Clients in Delivery Gains product at 315 levels -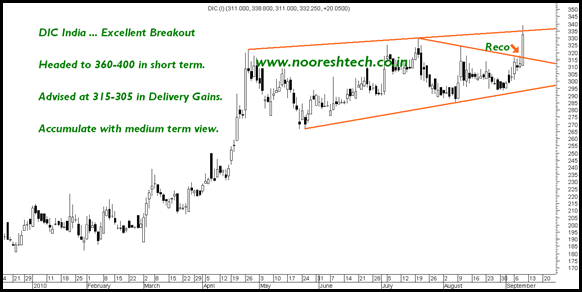 TECHNICAL ANALYSIS TRAINING SESSION – MUMBAI – SEPT 18-19
Book your seat at the earliest and become independent in your trading decisions. Call Kazim 09821237002 for more.
Also planning to conduct training sessions in Bangalore, Hyderabad, Gujrat – Please mail toanalyseindia@gmail.com if interested
As it was a festive weekend so not many charts.
TechnoCraft Industries, SPIC Ltd , NAvin Flourine  looks excellent on charts. Fundamental study on 🙂 - Need Reviews.
IDFC looks set for 200 in short term. Stoploss 184
Federal Bank,Dena Bank and IDBI look interesting for short term moves in Banking space
Weird Small Caps- Brushman Ind and Western India Shipyard look set for big moves possibly but high risk high returns.
Hinduja Ventures buy on every dip with a medium term target of 800. Only for investors with patience of 6 mths +
Vardhaman group looks interesting in the textile segment.
MBL Infra and IL N FS transportation could give 5-10% in coming week.
HUL a must in a long term portfolio as a defensive pick !