Sensex Technical View:
We had a detailed presentation on Sensex possibilities discussed in the Seminar in Mumbai. Will soon be mailing it to people who have subscribed to us and those who have not can do the same by putting in your details in the pop up box.
For now a quick technical chart.
Observations :
1) Sensex risk to reward in favor of shorts- Sell Nifty Futures at 5450-5470 and 5520-5540 if comes. Stoploss 18600 on Sensex.
2) Short term support at 17800 which should be stoploss for all longs and further short to be built up only if that breaks.
Continue to be stock specific longs but no fresh cash allocations till 17800 holds. Generally smallcaps/midcaps over perform in this period.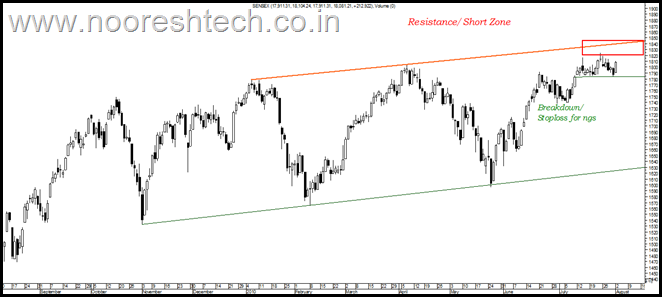 Disclosure :
Nifty Futures short at 5450-5470 once covered 100 points lower then again at 5450 and booked part at 5390 and re-entered short position at 5425-5435 so we have a decent average ( Our Advisory Clients). Will look to short more around 5520 if comes with strict stoploss.
Nifty Option Strategy pair sold at 110 Collective premium covered part at 75. So good gains here too with margin of safety.
TECHNICAL ANALYSIS TRAINING SESSION MUMBAI AUGUST 07-08
Enroll at the earliest for group discount and more. For more details call Kazim 09821237002. Learn and Apply Technical Analysis profitably the same way as we at Analyse India are doing consistently.