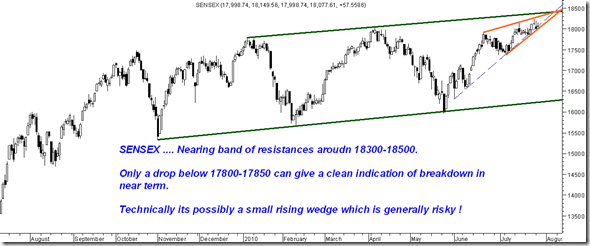 Sensex Technical View :
Technically Sensex is now possibly forming a Rising Wedge or Triangle which is generally a very risky pattern and sharp moves on downsides are possible on breakdown.
Also with wedges the possibility of a false breakout is very high. So one cannot rule out a move to 18500 before a sharp drop.
The confirmation of short term trend change comes on a drop below 17800-17850. Similarly on the upside we would look to change our bearish stance only if markets cross 18600.
For now avoiding stock ideas! and following the two sentences which i generally put up on the blog.
" Its not necessary to trade Everyday "
" Cash is also an Open Investment/Trading Position "
As there is not much to write on Stocks starting of a new section on Myths in Technical Analysis! Starting with 1st today 
1) Technical Analysis is nothing but Software !!
One of the major illusions about technical analysis is that it is some software which will give correct buying and selling signals.
Technical Analysis is a study of historical prices/patterns along with various other observations. Software only aids the information to be put up in a graphical format.
In the good old days Analysts used to make charts using actual graph papers. Technical Analysis is an art and not a strict Science.
For a good analogy – Photography is not about Cameras but much more about lighting,angles etc etc.
Painting is not about Water Colours/Oil Paint etc.
Similarly Technical Analysis is not about Software!!
Softwares Available:
End of Day Version – Metastock, Amibroker,Fibotrader,Advanced Get and many more.
Real Time – Reliable Falcon, SpiderSoftware IRIS, Esignal Metastock and many more utilities by vendors.
Data for Technical Softwares :
A pirated copy of all End of Day Data Softwares is available online. Historical and End of Day data is available at 2.5k-4k annually. For more on data you can contact us on analyseindia@gmail.com
Real Time data is a little more costly at 20k-40k annually.
But above all the Software and Data would be worthless if you have no idea on Technical Analysis !! You may end up doing trial and error for months/years and then decide to join one of our courses 🙂
For the same reason to avoid trial and error we also provide Software/Training on Software/provide our Customized Tutorials/Back up Support alongwith the course. 
Vendor Selling:
Majority of the Software vendors tend to push their softwares with help of Automated Tools by suggesting that the Software will give excellent Buy/Sell Signals and user need not do any Analysis.
I have heard many people buying so called Advanced Softwares/Trading Systems for 10k to few lakhs and losing money on the charge as well as the Losses !
"If softwares could give such Money Making Ideas 🙂 why would they be SELLING IT :)"
Softwares only provide a good way of seeing Data not MONEY 🙂
Preferred Software:
I am personally using Meta Stock and Falcon after giving a shot to all others 🙂
BottomLine:
Software is just a tool for Technical Analysis. A pen is useless to an illiterate :). So first gather knowledge and experience on Technical Analysis else the Software would be utterly useless and somebody might fool you with a good price on it 🙂
Hi Friends,
Please find attached the invite for the seminar – Sensex at 18k – the Journey Ahead – Free Seminar in Mumbai which is scheduled for 1st August 2010.
Earlier editions in Mumbai,  Ahmedabad, Pune, Delhi, Banglore, Surat, Chennai were huge successes and also we ended up discussing stock recommendations which appreciated in quick time. We would be glad to share a few more investment ideas, this time too!!
Interested people can contact Kazim 09821370002 Asif 09833666151 who would help you out with the registration process.  Limited seats, so register at the earliest.
Do invite your friends and colleagues.
Find Attachment in PDF which can be sent as a forward

–
Limited Seats only 100 and its on first come first serve basis so Hurry 🙂 . Last time we had to restrict registrations in Mumbai.