Well of late the blog postings have been a bit irregular ( although client advisory is going on time) as busy with new office and other personal commitments. So would be posting 3 times a week to the regular every day article.
Also i would like to invite each and every reader and others to drop down to the new office on 10th July to bless us in our new venture and discuss their queries. Full details here – https://nooreshtech.co.in/2010/07/expect-more-always.html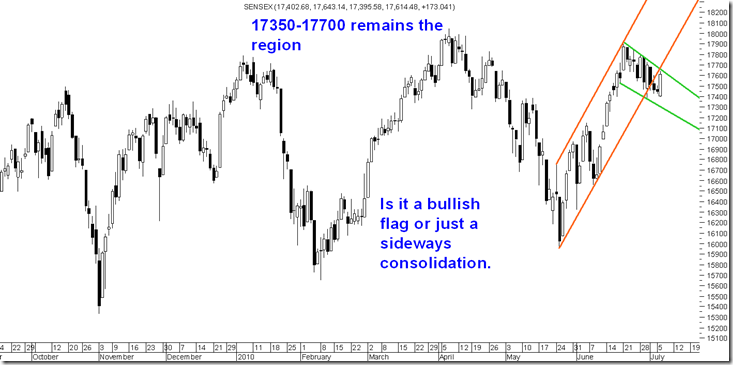 Sensex Technical View:
Until the last few days Sensex seemed to be bouncing back from the channel which as of now seems broken. Although the upmove has been quick and trending one so a breakdown would not lead to a drastic drop.
For now index seems to have set a range of 17350-17700. Only a move below 17350 should be a caution signal for stock specific longs. On the other hand the medium term resistance remains at 18300-18400 zone but the risk reward no more favours a clean long or short trade like the super trade from 4800 to 5200 on Nifty.
Expect stock specific moves to continue with sluggish moves on index.
Also after making a lot of money from the bounce of 16000 to 17900 i would like to again caution traders to avoid Leverage and be strict with stoplosses.
At 16000 had mentioned about going leverage and now is a time to trail your long positions to ride till the going is good as well as conserve the gains made.
As we expected the markets to stay rangebound we took a Nifty Option strategy.
Short Strangle – Sold Nifty 5500 call at 63 and Nifty 5100 Put at 31. Total premium received – 93. The pair now stands at a price of 63 giving good gains. This message was sent to all the people on our list. To get into our list mail with your full details to analyseindia@gmail.com
TECHNICAL ANALYSIS TRAINING SESSION MUMBAI – JULY 17-18.
The rates have been slashed by 30%!.Also group discounts ( 2 or more )  for more call Kazim 09821237002 Nooresh 09819225396
Stocks to watchout for :
Just a few quick charts.
Amar Remedies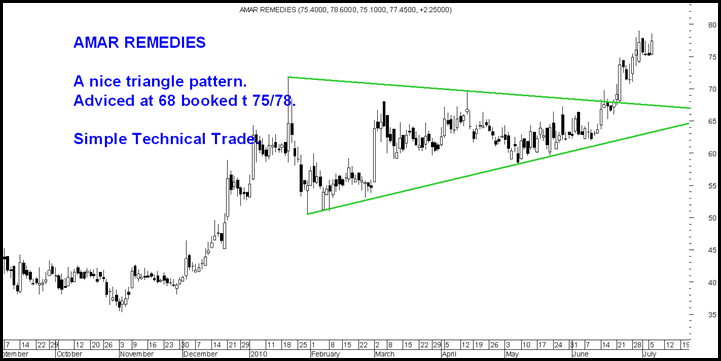 Easun Reyrolle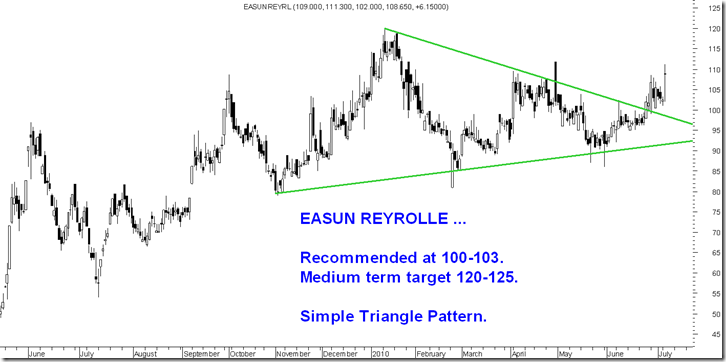 Financial Technology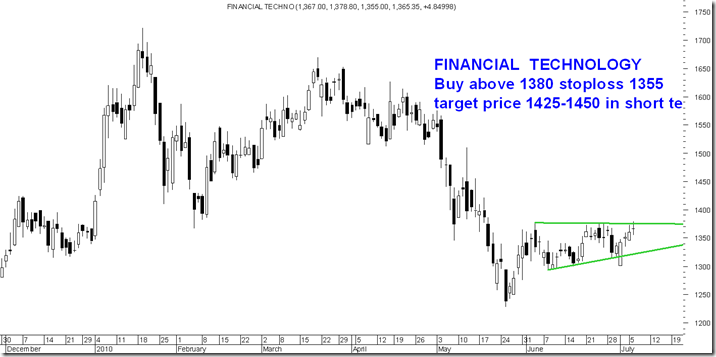 NTPC : Disclosure recommended at 197 to clients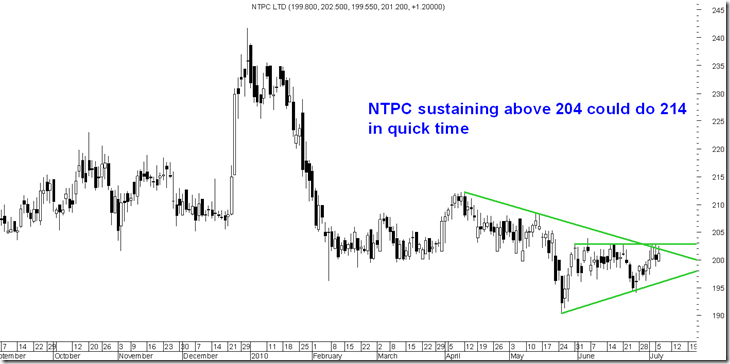 Cheers,
Nooresh