Before i start on to the technical view it makes me bother is that lot of us end up seeing Dow Jones and European Indices late into the night but is there actually a co-relation in either of the indices.
Although i could not get time to do exact analysis i asked a friend by giving him excel sheet of Dow Jones prices and Sensex prices. The end result is the co-relation is barely 0.3-0.35 which is not much of a no to bother for.
So if you have been keeping awake hoping for a recovery or a slide in US or European Indices for cues then stop doing it 🙂 Sleep a little early before 2 am or go around spend some time doing better things then watching CNBC or the computer screen.
For a simple analysis Dow Jones low made in May end was roughly 9750 and now its around 9650. Sensex is at 17500 which is 10% from the lows and Dow is down 1-2%.
Many a times even on the upside a similar disparity remains!.
Bottom Line is All Indices may look for direction for the world but magnitude is decided by themselves 🙂
Sensex Technical View: Justas from yest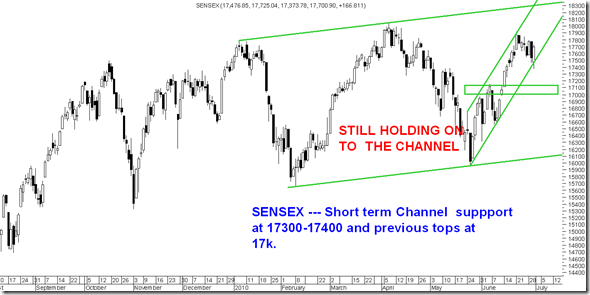 SENSEX TECHNICAL VIEW:
As was mentioned that short term channel support is placed in the band of 17300-17400. Sensex made a low of 17373 and did a recovery to 17700 + by day end.
As of now the market remains ranged between 17300-17900.Continue to buy on dips and exit on rise for index.
As of now 17370/17000 remain important support in near term.
Stocks to watchout for:
GIC Housing and TVS motors discussed gave a good move.
Persistent Systems has broken out above 420 is now headed to 445/465 in short term.
Nahar Spinning a breakout could see more momentum above 100. check chart below
Neyvyeli Lignite buy on dips for a target of 165/175 in short term. Check chart below
South Indian Bank,City Union Bank and Lakshmi Vilas look interesting in the banking space.
NAHAR SPINNING MILLS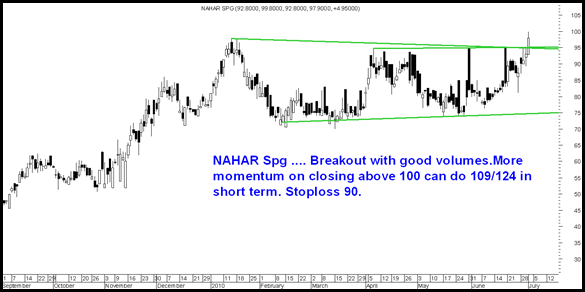 NEYVYELI LIGNITE