The last update on Global Indices was a few days back – Global Indices crucially poised
Since then all the global indices gave a sharp bounce back and are now currently seeing resistance around the upper trendline.
For Sensex it has been the upper end of the channel which is around 18000-18400 levels. Maintain my view of Shorts on Nifty on rise and avoiding leverage positions.
Charts below would show the state of global indices.
Dow Jones :
It seems to be a classic case of positive divergence and trap made around 9600. The upmove was quick but now seeing a correction from the trendline of recent tops. Testing of 9700-9800 could be seen.
Interesting to note how the lows and tops have been in a nice channel ! ( This is the best part of technical analysis works everywhere)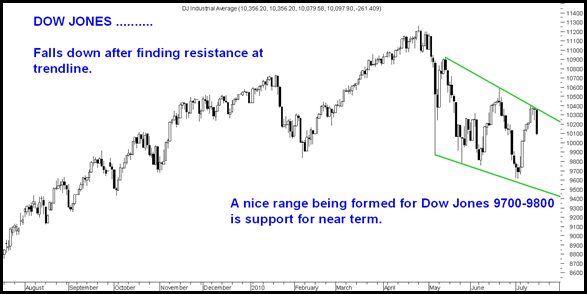 FTSE:
Another clean example of Parallel Channels. We have been seeing parallel channels consistently on Sensex for quite some time now.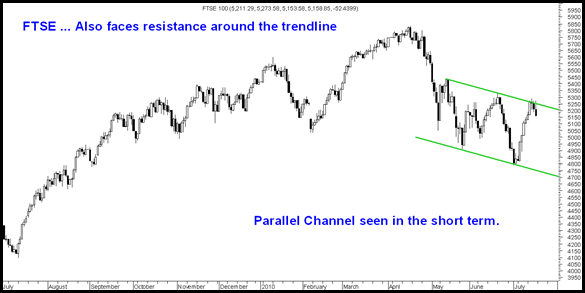 Hang Seng:
As mentioned emerging markets looked better the Hang Seng index gave a sharp bounce in last 2 weeks but is now again testing the short term trendline.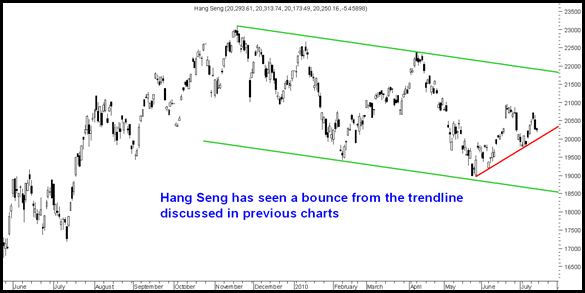 Gold :
For a very long time i have given no view on Gold. The reason being i did not see a clean breakout move on the upside nor on the downside.
Attempts to cross 1250-1270 have not succeeded.
Expect 1170-1270 range to maintain for quite some time. So buy around 1165-1175 with a 10 dollar stop.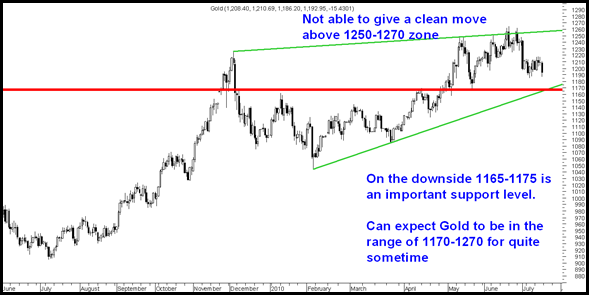 To join us in our new venture where we would provide advisory services at absolutely free of cost with your trading account with us please get in touch with our team Kazim 09821237002 Asif 09833666151 Nooresh 09819225396 ( after market hours only ).