Sensex Technical View :
Quoting the lines from yesterday
High risk players can buy around 16900-17000 in index with a stoploss of 16840 tgt price of 17400.
Sensex low for the day 16858. Support mentioned was 16850 in yesterdays analysis. Stoploss mentioned was 16840. Nifty futures corresponding levels came to 5050-5060.
Buy call given to clients at 5060 add more if dips to 4950 tgt 5150. Booked partial profits at 5100 and now trailing.
Current view remains that index should give a bounce back to 17400 levels. Similar levels for Nifty comes to 5190. We may review the position on further bounce.
Stocks to watchout for:
Tata Steel and Hindalco are closer to channel bottoms. Both can be bought in dips with a stoploss of 555 and 155. Bounce back targets of 600-620 and 170-175 are possible in days to come.
Will post chart soon.All Metal stocks look good.
Buy calls given today to clients –
Tata Steel 560 to 570 and then 565 to 576.
Sesa Goa 379 to 394/404.
Nifty Futures 5060 to 5100 and holding.
Will again look to buy Metal stocks on dips.
BUY MIDCAP BANKING STOCKS :
Technically as i had mentioned a few days back that Midcap Banking stocks look excellent for short term. I continue to maintain the view. Earlier favorite DCB one should book at 48 can do 60 in long term though.
IDBI, Dhanlaxmi Bank, Vijaya Bank current favorites for short term. Traders can buy on dips with 2-3 weeks view.
IFCI Ltd
The stock is making a small triangle pattern and has been consolidating for a while now. A volume based move above 53-54 could give the stock the much needed momentum. Check the chart below.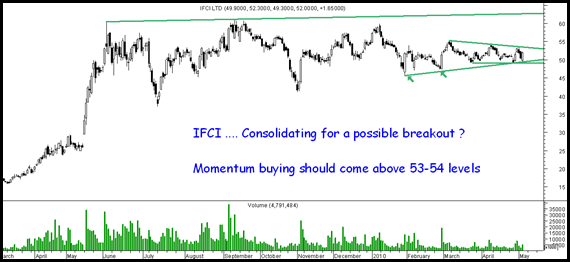 Repro India :
The long term charts of the stock look promising and a sustained closing above 120 could give a move to 132/150/190. Watchout for increasing volumes on the stock. Only meant for patient investors and please do your own research.