Sensex Technical View :
Sensex did see some jitters around the 18k mark as expected.
In the near term 17700/17450 are levels to watch according to short term channels and trendlines. Also the last bottom is around 17480 as well as the 23.6% retracement of current move comes in that area.
So till we dont see a close below 17450 i would not be unduly worried betting on small caps which have more to go. Also people looking to short should either wait for 17400 to go or a zone of 18200-18400 to come to play a risk reward trade.
TECHNICAL ANALYSIS TRAINING SESSIONS – SCHEDULE
MUMBAI APRIL 10-11          ( 2-3 seats left )
MUMBAI APRIL 17-18
SURAT  APRIL 24-25         tentatively scheduled --- Course would be conducted in Gujarati.
For more Kazim 09821237002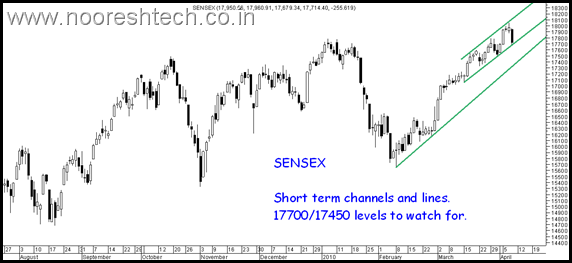 ION EXCHANGE RECOMMENDED 2 days back already rocking. Its a long term call if people have taken with a short term view please reduce exposure at 175+ as though current move is fast the stock can test patience.
Stocks to watchout for :
Telecom move yet again got punctured 🙁 thats why need strict stops.
We have had some very good smalll cap technical trades. The analysis does not give me enough time but will soon put a consolidated view in the weekend. Had explained some of the trades in our seminars. People interested in getting similar seminar in their city do get in touch with us.
HDFC Bank and JSW Steel seem to have given breakdowns… If markets crack below 17500 good stocks to watch for bears.
Alfa Laval seems a good breakout. Defensive players can look to buy at current levels or on dips with a stop of 1320.
VIP inds above 284 and Surya Pharma above 189 could give a quick 10% move.
Monnet Ispat /Ganesh Housing/ TVS motors traders can keep a watch if u see more then 3% move in the day ….
Regards,
Nooresh