Sensex Technical View :
Around a week back had mentioned that Sensex could take a pause around 18k and the top was around 18047 which could have ideally gone around the upper channel at 18200 odd ( seen in Blue dots).
The current move was channeled and lots of intra day bottoms were seen around 17700. Today index gave the move below it giving first signals of weakness although it is too early to conclude. The nearest bottom is around 17488.
Trendline support ( seen in green) comes around 17500. For a short term index trader the stoplosses are hit and one should now wait and watch. Follow up moves below 17500 would confirm a change of trend till then one needs to be strict with stoplosses and strictly stop leveraged trading ( i.e high volume Futures or Margin Trading) as volatility would increase.
Corresponding Nifty levels are 5230 which needs to be seen for.
Only a move above 18000 could be positive in short term.
Strategy :
Keep a good amount of cash as caution. If totally invested generate cash by booking profits or even losses but reduce exposure so risk also reduces. Avoid Leverage as volatility would increase.
Midcaps/Smallcaps would continue till 17450 holds but Readers are advised to take caution and do adequate research and risk management. Although i would continue some views on smallcaps but advise READERS to be strict with stoplosses or avoid. As a general rule in short term i prefer a rough stop of 5-8% from buy price.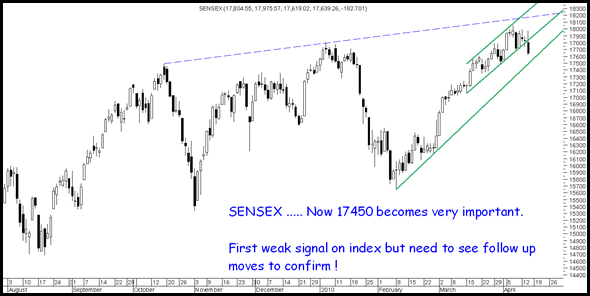 Discipline !! is what makes the difference.