I Started in the markets in 2004 with Black Monday ( India is Shining – BJP campaign and BJP losing the elections have witnessed a few cycles being full time from 2007 and survived even after a few near fatal mistakes.
So let me take you through the smallcap cycles in the last 12-14 years i have seen. This will be a long post.
The reason to take BSE Smallcap Index is it has the largest no of stocks and looks at the bottom 15% of market cap. The stocks keep changing but in a cycle quite a lot stick. But even midcaps have moved similarly.
2005-2008 – Extremes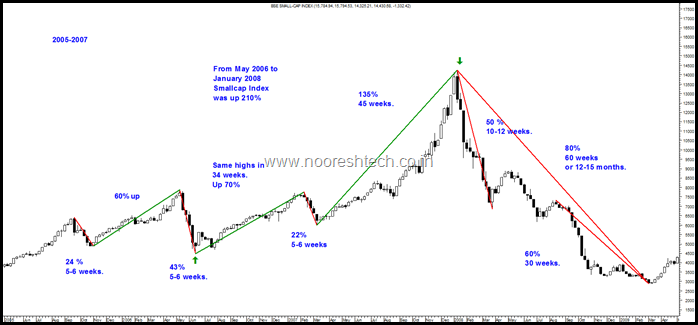 A) The Craziest Smallcap Bull Market ever.
1) The 2005 correction
Down 24% in 5-6 weeks.
Recovered in 3 months so it was a swift recovery.
2) The 2005 upswing
60% up in 6 months.
Optimism back.
3) The 2006 Correction – Fast and Furious
Down 43% in 5-6 weeks.
Even the Nifty was down 30% in those 6 weeks.
Margin Selling and everyone started losing faith and valuations were expensive. This is the time Sub-Prime crisis in US was at peak discussion.
4) Bull Market Recoveries are Fast - 2006 Recovery
Recovered back to same highs of 2006 in 6-8 months.
Up 70%.
Suddenly the concerns went off and belief was back.
5) 2007 correction
22% in 5-6 weeks.
Recovered in 3-4 months.
6) The Euphoria of end of 2007.
From a low of 6000 in March 2007 the Smallcap Index was at 14200 in January 2008.
A move of 135% in less than 10 months.
From end of August to January 2008 the index was up 90%
Smallcaps would stay on circuits for so many days together.
A madness never seen before and doubt it will be seen again.
B) The Scariest Bear Market ever seen.
1) Coma in a Quarter of 2008.
Smallcap Index fell by 50% in 10-12 weeks.
Nifty hit 2 lower circuits in January 2008. Sudden Coma after the accident.
The leverage in derivatives was the highest. Stocks dropped 50% in January 2008.
Such was the rally of end of 2007 that Smallcap Index did not break the lows of August 2007 till Sept 2008.
It was numbing to see lower freeze in the Nifty. Nifty also fell 25-30% in the first quarter.
2) Dead in 2008
60% drop in 10-12 weeks.
50% drop just in 2 months from Sept- October 2008.
Even Nifty fell 50% in Sept-Oct 2008.
Smallcap Index continued to grind lower till 2008 while Nifty/Sensex did not make new lows.
The most scary 2 months ever in the history of Equity indices around the world over the last few decades would be September – October 2008.
Also people were worried about their jobs or getting a job. Massive Layoffs.
Other Observations
Such was the rally in 2006-2008 that it took a 65% drop for Smallcap Index to break the lows of May 2006.
In 2007 stocks multiplied 3-5-10x in a year and in 2008 lost 70-90% of value. Many stocks have never come back to those prices even after 10 years.
15 out of the 50 Nifty stocks of 2008 have not reclaimed 2008 highs.
Do you think such extremes will keep coming again ? Will like to believe it wont and if it does it would not be equity that i would be worried about. Remember reading Buy Guns, Buy Food, Buy Gold, Buy a Bunker articles in 2008. So as of today i may not consider the possibility of a 60-80% drop in Smallcaps as a whole.
The Terrific Recovery of 2009-2010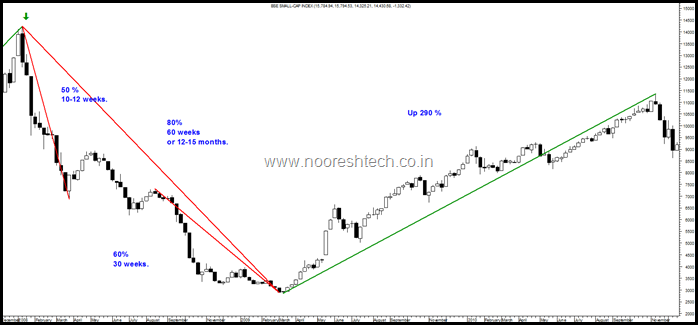 A low of 2900 to 11300 in end of 2010 is a 290% move in 18-20 months.
Apart from a 25% correction post the circuits of 2009 election there was no major correction.
Smallcaps could not go back to the highs of 2008 at 14200 but 11300 was a terrific unexpected recovery.
In 2 years so many stocks went 10x.
Who would have thought after 2008 stocks would ever recover. Nifty went back to touch 2008 highs.
Its been 10 years since Nifty has not had a 30% correction many other global indices.
Other Observations
2008 was the most painful but the fastest bear market and recovery.
12-15 months of fall from 2008-2009 got recovered in the next 12-18 months.
If one would have gone in coma for 2 years and got up after 2 years he would not have even realized the pain.
The crisis in US led to a severe slump in Real Estate prices affecting every citizen. In India the real estate prices actually did not fall much and went up in 2009-2011. The pain was seen mainly by Equity Investors who are just 2-5% of the population.
The Painful After-Effects of a Bear Market 2011-2013
1) The Pain in 2011.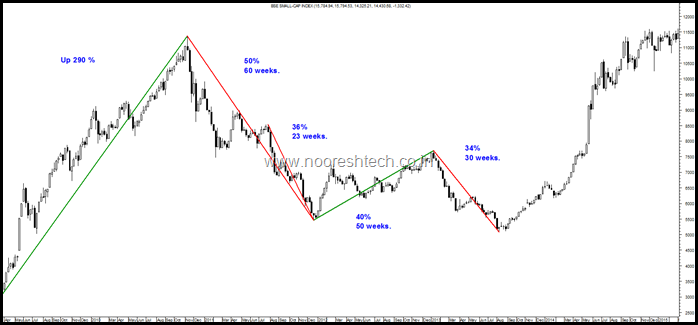 1) A 50% drop and the Hate for Smallcaps.
50% down in 60 weeks / 12-14 months.
2011 was a pain year. Smallcaps had not recovered fully in 2010 and that too a different set of leaders.
In 2011 whatever recovery in the fallen angels of 2008 got cleared and were back to 2008 lows or lower.
In the end of 2011 it fell 35% in last 4-5 months.
Nifty dropped 25-30% from 6300 to 4500 making a major bottom. Even Global Indices made a major bottom in end of 2011.
2010 revived hopes in smallcaps with recovery even in bad names but the 50% drop in 2011 made people hate smallcaps.
2) Smallcaps bounce but not much – 2012.
34% up in 30 weeks but could only retrace 1/3rd of the downmove.
A lot of smallcaps continued to fall. The hate for smallcaps continued.
Nifty recovered from 4500 to 6200 almost close to 2008/2010 highs with new leaders. ( FMCG Pharma )
How could a Smallcap investor justify staying in smallcaps with Nifty outperforming.
A lot of Mutual Fund and ULIP investors came close to breaking even with Nifty back at 5500-6000 in 2012-2013. Redemptions started as there was an alternative opportunity with Tax Free Bonds at 10% + and various fixed income options at 9-12%
3) One should never buy Smallcaps – 2013.
Down 34 % in 30 weeks/ 6 months.
The Smallcap Index made a new low below 2011 lows. Smallcap Index down 55% from highs of 2010-2011.
Nifty did fall from 6100 to 5100-5500 but was higher than the 4500 lows of 2011.
SEBI came out with Periodic Call Auction system in 2013 removing the liquidity in the smallcaps/microcaps which had anyways gone out of favor. Scaring investors away from microcaps/smallcaps. Check this article - https://nooreshtech.co.in/2013/04/periodic-call-auctions-for-illiquid-stocks-sebi-anti-investor.html . It was a pain to buy or sell microcaps with 1000-1500 names in this list. Today SEBI has come out with classification for stocks as smallcaps/midcaps/largecaps for Mutual Funds !!!
The Taper Tantrum etc led to USD-INR hit a high of 68 + and subsequent RBI action etc.
2 years of terrible times for smallcaps/microcaps.5-7 years of terrible returns on equities. Redemptions across Mutual Funds and ULIPs. Also with upcoming elections in 2014 the mood could never have been worse.
Microcaps/Smallcaps were available at 50-70% discount to cash , 3-5 p-e with growing earnings and 5-8% yield with no takers. You would buy a stock at 6% yield and 6 p-e it would become 5 p-e and 8% yield in few days !!
Remember a these lines in those times by one of my mentors Kukkuji – Ye Waqt Guzar Jayega – Nothing is Permanent.
2013-2014 – Nothing is Permanent
1) 2013-2014 – Rally before elections/Post Panic
Scientifically not true but in Markets – Its generally darkest before dawn.
From the bottoms of August 2013 the Smallcap Index went up 100% in 45 weeks/9-10 months before elections/post the panic.
2) February 2016 – A short and swift correction
A correction of 25% in Nifty and Smallcaps also similar in February 2016.
2015-2016 was the year of Smallcaps outperforming the Nifty only to give up in end of 2016.
3) Demonetization and Trump – Not much of a correction.
Trump election was supposed to start a bear market in media articles but created the fastest bull move in US.
Demonetization was a much tougher experience for the citizens of India but Equity just saw a 15% correction.
4) Back to hating Smallcaps soon !! – 2018
Smallcap is down 29% in the last 36 weeks/8-9 months. Nifty Small 100 down almost 33-35%
Nifty is down barely 6-8% in the same period.
SEBI has come out with classification of smallcaps/midcaps/largecaps for Mutual Funds. Like in 2013 Periodic Call the current regulation dissuades people from buying smallcaps.
50% of the NSE stocks have fallen more than 50%. Such is the divergence of the broader market to the Nifty which is down 6-8%
Suddenly there is a lot of gyan on why smallcaps are untouchables and so much froth etc.
To sum up todays market and the gyan you read
Everyone is invested ( unless 100% cash ), Everyone is scared and cautious about what will happen over the next 6 days to 6-9 months. Comparisons to 2013/2011/2008, political issues, global issues. It seemed like a correction till just 2-4 weeks back and now it seems a much painful bear market. Business Models and Balance Sheets have changed or it's our own notional losses or potential further notional losses which are hurting and making us stop thinking what can happen in the next 1-2-3-4-5 years?
Although it may not be true scientifically but in Markets – Its darkest before Dawn.
So to my favorite line in the markets of one of my mentors Kukkuji – "Ye Waqt Guzar Jayega "– Nothing is Permanent !!
Right now the Smallcaps are in darkness. Can it get darker – yes it may get much darker also and last maybe the night could be much longer than we expect. One can never get the timing exactly right and even if you get it can you be able to get all in at the right time?. Although the easier option is to get back in when everything is hunky dory again but can you ?
These are the times when belief, patience and character will get tested. Also if you do believe over the next 1-2—3-5 years India will grow now is the time to keep faith and be patient.
What are we doing ?
We got the current move " WRONG !!! " and paying for the mistake with losses and notional losses. Its very painful but thats how smallcap investing is during downtrends. Last I took such a big drawdown was in 2013.
Although we did point out the divergence in smallcaps in December 2017 right around the time Smallcaps topped out. Suggested to increase cash at the right time but under-estimated the magnitude of the current move.
We thought this to be a correction of 20-25 % to be a swift and not as painful and Smallcaps to not diverge so far away fron the Nifty. We did not increase cash as much as we should have and deployed that early. We were similarly caught on the wrong foot in the last leg of 2013. Its tough to catch all the legs of the market and a lot of people do that extra-ordinarily or by telling lies or writing cryptic sentences. We do make our mistakes and pay for the same to the market – get hurt , get up and again get back to work.
I see a lot of similarities to the 2011-2013 period. Nifty is in a higher top higher bottom formation and close to all time highs but Smallcaps have broken the low of the year.
We are in a Bear Market with a Bullish Index !!
I wrote a similar post in Sept 2013 -
We are in a Bear Market with a Bullish Sensex/Nifty
https://nooreshtech.co.in/2013/08/we-are-in-a-bear-market-with-a-bullish-sensexnifty.html
Lines from 2013 post
We at Analyse India are also seeing sharp falls of 30% in many of the recommended stocks but on terribly low volumes in smallcap stocks recommended. But there is no major fundamental change to warrant discomfort.
We have already seen a 8-9 months period of correction. As from the charts seen in the post of last 10-15 years the bear markets for smallcaps have been 12-15 months ( 2008,2011,2016 ) or a 18-20 months 2011-2013. So even if we consider its 2011 again we have seen half of the pain and if its similar to 2013 then not much pain is left. Am not considering 2008 as we did not see craziness of same sorts.
What will happen over the next few days/weeks and months is on the top of our minds and cannot even think of the next 1-3-5 years. That is what a 30% drop does to our brains as it loss pains us double than profits and survival instinct takes over. Survival Instinct is what makes us sell a stock down 50% thinking what if it goes down 80-90%. If its not a fraud or a total dud many of the companies down in recent months may well make good money over the next 1-2-3 years.
We do have recent stocks recommended which have corrected 30-50% from the peaks and we are confident that none of them are total duds and will make money over the medium term. (We have a history of pointing out duds - Infibeam , Vakrangee , Opto , BhushanSteel and being able to avoid them. If only i was more right on the other side and spot multi-baggers )
We are hopeful on a whole lot of midcap/smallcap/largecap companies which can do well over the short term as well as long term.
What we did last time in 2013-2014 is started with customized advisory for select HNI clients in Platinum Plus as it seemed one of the good times to increase equity exposure. Its been fruitful for all of us.
Most advisers tend to pitch their products after a solid performance but we believe after a short term bad performance by us along with the bad markets is a better time to pitch our products and to meet prospective clients who would be interested for long term advisory relationships. As such relationships last longer and are fruitful for all of us.
If you are interested in our advisory services -
For more details Call - Nooresh Merani – 9819225396.
drop down to meet with prior appointment. Am based out of Andheri West – Mumbai.
Our other services
Can subscribe to The Agnostic Portfolio ( Its down 20-25% since the launch in mid April) . A lot of stocks have now come to valuations where its tough to not make money over the next 1-2 years. We will be extending subscription periods for existing clients in Agnostic given the relative underperformance.
For Derivatives - https://nooreshtech.co.in/quickgains
QuickGains F&O
The product is for traders with a High RIsk Profile and High Risk Apetite. Holding period of positions is 1-15 sessions generally.
For customized Advisory Services for HNIS – Call Nooresh Merani 9819225396 or mail nooreshtech@analyseindia.com