In our latest report released on Monday we had recommended Marksans Pharma. The stock has hit our 1st target. It is up 18% today and hit the 20% circuit filter in the day at 21.45
This is the chart and the comments as put up in the report.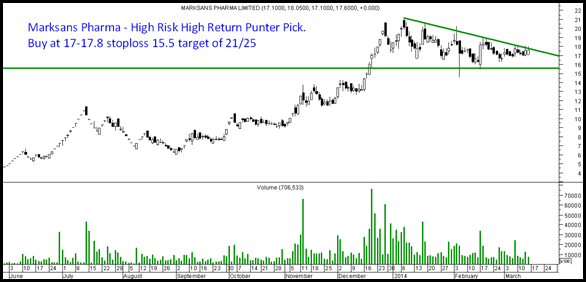 -> Another favorite of the 2008 period the stock had a bad time for last many years.
->  Recently the stock has moved from1-2 rs to 20 in the last 1 year due to a string of superb results and a total turnaround.
-> For the last 3-4 months the stock is consolidating before it sets up for another breakout move.
-> One can buy the stock at 17-18 with a stoploss of 15.5 and a target of 21/25.
->  Punters expect it to touch even 40 in the medium term. High risk high return stock.
There are many other stocks in the report. Some of the high conviction stocks are actually a a percent or two below the recommended price and at an excellent buy zone.
Most importantly with the above report you will also be entitled to attend a detailed technical presentation on impact of Indian Election results. This is a report which is around 60 odd slides and will last an hour. Also there will be a Q&A session.
As the webinar is supposed to be educative and may or may not contain stock recommendations , we have clubbed it with the Technical Trades Report.
You can subscribe the report online for Rs 999.
https://www.instamojo.com/noooreshtech/technical-trades-march-2014-webinar-on-india/
For all our advisory services do check – www.analyseindia.com or mail us on analyseindia@analyseindia.com
Thanks and Regards,
Nooresh Merani
Twitter – https://twitter.com/nooreshtech
Facebook – https://www.facebook.com/nooreshtech