In the last couple of years the biggest gainer was Wockhardt moving from 300-500 zones to 2000-2200.
Mind you in 2008 it was one of the biggest pharma losers falling from 450 to 70 rs.
In the start of 2013 we saw a slew of reports on the stock at 1200-2200 levels Some targets may have been achieved but broking firms generally do not shift from a Buy to Sell directly and keep revising targets so that they keep getting access to the management.
One of the biggest initiation at top came by Bank of America Merill Lynch at 1930 levels. https://www.moneycontrol.com/news/business/bofa-merrill-initiates-wockhardtbuy_843094.html
Emkay also did initiate a buy at 1500 and targets got achieved but i doubt they reverted to sell.
Since then we have seen a spate of bad news on the stock and has collapsed to 670-700 levels. Let us look at it technically.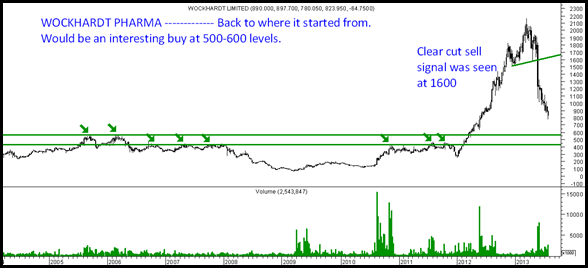 -> The major breakout happened in the stock on sustaining 380-430 resistance band and 600 next. This was the first indication of a long term trend change giving major upsides.
-> The next big signal to sell came only at 1600-1700 levels which was very clear.
-> On a longer term basis the stock may find a lot of support at 600-500 levels. As a matter of fact it can be an excellent buying opportunity into the stock at those levels.
-> The forthy move is over and one may see good support around 600. Investors may actually accumulate the stock on further dips if one can digest a dip to 500 in worst case. Upside we could be looking at 800-900 or higher again.
-> The current down fall is a mix of bad news and over participation which happened at 1800-2200 levels.
The last time i used to mention the stock is in 2011   where it was part of our defensive favorites. But to be candid we did trade small moves between 380 to 550 levels and missed out the total move.
Conclusion – This is purely a technical take on the stock and we may keep a deep 20% stoploss and accumulate between 650-550 with a longer term view and reduce holdings on rise to 750 to lower costs.
TECHNICAL ANALYSIS TRAINING SESSION MUMBAI
AUGUST 10-11
Can check a brief on the course outline https://nooreshtech.co.in/technical-analysis-training
For more details mail on nooreshtech@analyseindia.com or call Nooresh 09819225396 Ankit 09899899989
Nooresh Merani
www.analyseindia.com   ( For all our services )
Twitter – https://twitter.com/nooreshtech
Facebook – https://www.facebook.com/nooreshtech